The Bwindi Impenetrable Forest in Uganda is one of the most biodiverse regions on the planet. It is home to half the world's population of endangered mountain gorillas, several other primates, 400 species of plants, 350 species of birds, forest elephants and duiker antelope.  
For thousands of years, this forest was also home to the Batwa pygmies (called "Twa" in other countries). For conservation reasons the pygmies were evicted from the land in 1992. Since they had no title to the land, they were given no compensation. They consequently became conservation refugees, completely separated from their hunter-gatherer lifestyle in a deforested environment. The Batwa are now struggling with poverty, drug and alcohol abuse, HIV, a lack of education and discrimination.

The goal of the Redemption Song Foundation (RSF) is to help create sustainable living for the Batwa people in Kalehe village, while also encouraging environmental conservation. To achieve this, the foundation has implemented several educational and community empowerment initiatives.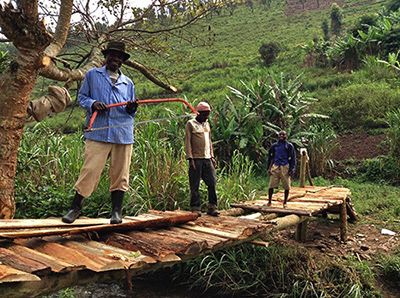 One of their most successful projects is the on-going  artisan co-op. Nicole began purchasing baskets made by the Batwa and bringing them to the United States to sell them. The funds raised go towards community development projects the Batwa want, such as homebuilding, clean water filters, and a bridge building. But Nicole also couldn't help but work on more pressing and visible issues: the health of the people. Despite a fantastic hospital in the immediate vicinity started for the Batwa by the Kellermann Foundation, many Batwa were not using its services: free HIV care, free family planning and a subsidized health insurance. Nicole got everyone in the village she works with to enroll; the Batwa paid for their health care through funds raised from basket purchases. As a result all known HIV-positive women in the community are now on medication. Weekly, they remove parasites from children's feet, treat infected wounds, and provide them with new shoes for school. 
The pygmies often have free education from other nonprofits, but children usually drop out of school at some point between 2nd and 6th grade.. Because of this, their job prospects are severely limited. The artisan co-op is one way that RSF has helped the Batwa earn money from a sustainable source. 
Nicole hopes one day the Batwa may secure more jobs in Uganda's widespread nature and wildlife tourism industry. Becoming involved in conservation and interactive tourism will highlight the importance of protecting the environment to locals and tourists. By leading safaris, individuals will also be able to bring home a decent salary.  
"There are opportunities in tourism for kids who graduate from the equivalent of high school, but mostly locals work serving people in lodges," Nicole says. "I'd like to see more Batwa leading tours in the forest, and working as park guards or trackers, thus using their culture to give back to preserving the native ecosystems while providing work for the people." 
Education is at the heart of Nicole's and her team's work. As she poignantly puts it, "education is key to establishing a more sustainable relationship between people and the land." To improve education levels, Redemption Song sponsors children so they can attend school.  
 "After first ensuring these kids really did want to go back to school," Nicole says, "I gave them an incentive: If you stay in school and do your best, after the first term, we will take you on safari to see lions, elephants and other African wildlife. And they did so well!" 
Nicole says how "in May 2015, my staff and I took 3 Batwa boys to Queen Elizabeth National Park. We stayed in a tourist lodge and they got to swim in the pool, dine at a nice restaurant, and enjoy a boat trip seeing hippos and a vehicle game drive to see other wildlife. They loved it! Not only does this help them know and appreciate the incredible wildlife of their home country, but staying at a lodge where Ugandans work in tourism also expands their horizon. This allows them to literally see the opportunities available for their own lives if they stay in school and succeed." RSF just took another group of Batwa children to the park this May.  
The Batwa have been widely accused of poaching, an environmentally unsound practice that Nicole says has been unfairly attributed to them. A study led by International Institute for Environment and Development (IIED) concludes that poaching is carried out by many different groups due to the loss of their right to hunt in the forest. It is not primarily a pygmy issue. 
"The Batwa have lived sustainably in the forest for millennia" Nicole says. "In fact, one study by Makerere University professor Abwoli Banana (an RSF board member) found that, pre-eviction, the forests where Batwa lived had less poaching than the forests without the Batwa." 
"Now that the Batwa all live outside the forest, they are learning to deal with so many issues: avoiding HIV and figuring out how to eat without hunting, but also how to survive and not be taken advantage of in our contemporary world. It is by educating the Batwa and others on sustainable living, and caring about wildlife and ecosystems, that a better way of life for the people and the wildlife can be established." 
Nicole believes that "one day it could be possible to reforest the landscape between Bwindi Impenetrable and Mgahinga Gorilla National Parks where mountain gorillas live in 'forest islands' surrounded by agriculture … you cannot force people off the land on which they live. However, you can educate them in ways to responsibly farm and reforest the land with native trees." 
"The Batwa are forest people, and they live on settlements that are completely denuded of forest, or planted with scattered non-native plants and trees," Nicole continues. "They love the idea of reforesting their settlements with native trees. We are seeking funding and connections to tap into global climate change funding, so the Batwa can receive money to plant and maintain trees."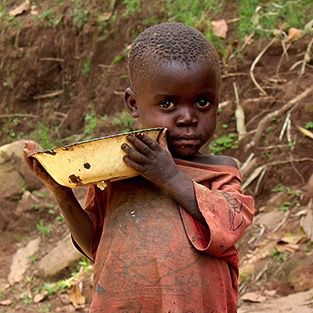 Nicole points out that when people's lives are improved, they "become healthier and are less focused on mere survival. When they have more income to buy legal wood or charcoal, for example, the need to illegally access the forest to get wood is reduced. When they can buy goat meat or chickens, or have their own livestock, the need to illegally hunt declines." At some point Nicole hopes to find a legal way to provide the Batwa with their traditional medicinal plants, honey, basket materials and possibly even farmed wildlife, such as duiker. Nicole explains that RSF hopes to "create an alternative and legal source of protein, which is needed and desired by locals, including the Batwa. This will reduce poaching within the forest, and, in turn, reduce the exposure to zoonotic diseases like Ebola, that are initially transmitted by consuming bushmeat. We are working on finding grants to follow up on the IIED study to establish that such a wildlife farming project would indeed reduce people's inclination to poach. That will eliminate other reasons why they might illegally enter the Bwindi Impenetrable Forest."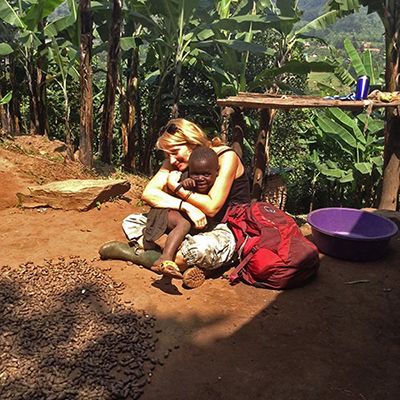 Redemption Song has been running for just over two years. Their plans for change rely on establishing trust with the Batwa community. As Nicole emphasizes, "with trust, people will collaborate and cooperatively manage and protect communally used resources, like a freshwater spring, forest or pasture. So our first step is to show them we are trustworthy and genuinely care about them, their needs and interests, and their children. The Batwa are still discriminated against and taken advantage of, so this takes time, but it has gone really well so far." 
Nicole continues: "we are limited in size – just me and a couple of Ugandan staff – and work primarily in one village – but we're honing our methods and working holistically with the people to create a better future that will involve better health and more sustainable ecosystems," Nicole states.
To learn more about the work of Nicole and her team, and/or to purchase some of the artisan items made by the Batwa, check out their website and online co-op store.  
Photos are copyright protected and may not be reproduced without permission. Photos are used with the permission of Wendee Nicole.