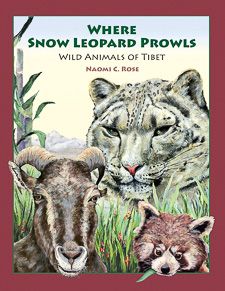 Naomi Rose, a painter, writer, and teacher, told Izilwane, "I have learned to pay attention to my dreams over many, many years." Where Snow Leopard Prowls is her new, self-published children's book of Tibetan wisdom tales. Rose was a computer software engineer before she started having dreams at night of attending art school. She explained, "Once I started going to art school, I had the most powerful dream I had ever had. I sat up in bed and the dream was basically saying study Tibetan wisdom and culture. This was a big surprise because I never thought about Tibet before."

After attending a lecture series about Tibet, she told her teacher that she felt moved to write children books. He asked if she would write them on Tibetan wisdom tales, and so came Tibetan Tales for Little Buddhas and Tibetan Tales from the Top of the World.

"Several years ago, while painting the illustrations for these books, I found myself painting more and more Tibetan wildlife into the scenes," said Rose. "And as I painted, I felt more and more endeared to these animals. When I finally painted a snow leopard, I knew the animals were calling me. It was time to create a book for and about them."

Realizing that the both wildlife and domesticated animals were important to Tibetan culture, Rose focused on a variety of animals from primates to goats. One of the most remarkable features of the book is the striking illustrations Rose painted to help tell the stories.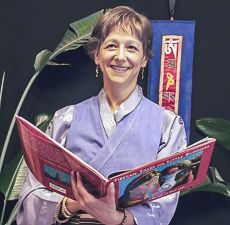 "I found myself painting their eyes first when I was painting them, and that's not something you do in fine arts," Rose said of the artistic process and her inspiration for the book. "I had this wonderful feeling that they were helping me do the portraits. We were establishing a connection as I painted. I feel like the book more than anything for me is to have the readers have that personal connection."  

To assure she was presenting an accurate depiction of the animals, Rose sent drafts of the book to experts, such as Brad Rutherford at Snow Leopard Trust and Nancy C. Hawkes at Woodland Park Zoo. They then sent her their comments, corrections and endorsements." 

Beyond writing and illustrating these books, Rose visits schools and gives talks on Tibetan culture in which she engages children with art projects and worksheets. Her snow leopard worksheet is meant to help reinforce her belief "that these animals, especially the snow leopard, have requested that their presence be fully known, and not just in Tibet."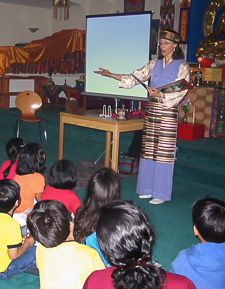 Using a Kickstarter online campaign, she hopes that Where Snow Leopard Prowls will be the first book published by her small publishing company Dancing Dakini. 

"This book came from my heart and from the animals, so I wanted to keep it as authentic as possible," Rose said. "Kickstarter is great, because it gives people the opportunity to back the project financially in any way you can or want to and you get wonderful gifts. We're launching on Monday, October 15, for 30 days." 

Rose created her publishing company with her husband and believes in supporting other authors working on their own projects, as well.

"I want to bring their energy to the world, and I did this though the Kickstarter page for a way for the animals to enter the heart of children and adults the way they entered mine." Rose hopes that with the success of her Kickstarter page she will write more nature-themed books. 

To help support this wonderful children's book and Dancing Dakini Books, please visit their Kickstarter campaign.