Last year I was fortunate to journey to Glasgow, Scotland, for the UN's 26th Annual Conference of Parties (COP26). The landmark event brings together leaders from almost every country to negotiate climate action plans. I had no idea what to expect but was incredibly excited to experience such a momentous event in a new city.
My first day coincided with the Global Day of Action for Climate Justice, which was marked by demonstrations in 100 countries around the world. In Glasgow, I was one of 100,000 people marching through the wind and rain to demand immediate action from our world leaders. Despite the gloomy, wet weather reducing many placards to cardboard mush, spirits remained high and the atmosphere was electrifying. The drums of Extinction Rebellion protesters paired with chants from the crowd could be heard echoing through the streets. We were even blessed with a rainbow as we descended into the city's oldest park, Glasgow Green.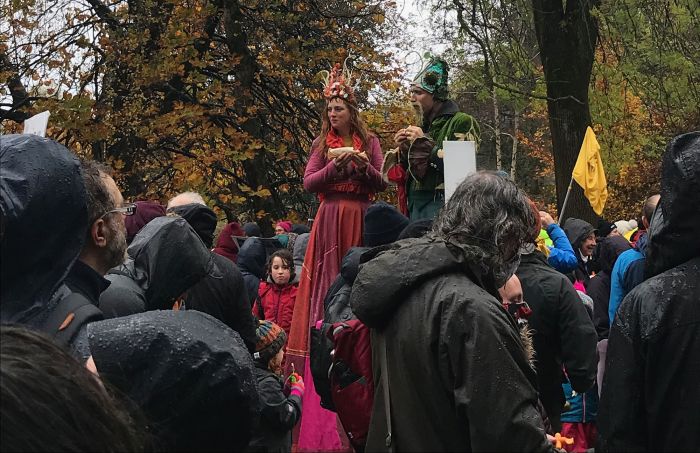 Protestors on stilts stop for a bite to eat in Kelvingrove Park.
I was very impressed by some of the elaborate costumes and felt slightly underdressed in my jeans and raincoat. Protesters dressed as Poseidon towered above the crowd on stilts and giant inflatable farm animals promoting plant-based diets were being towed along just ahead of me. A personal favorite was a band of "Greenwash Busters" carrying greenwash detection machines and marching along to the "Ghostbusters" theme song. Being in such an enormous and colorful crowd of people all dedicated to the same cause was a truly incredible feeling and something I will never forget.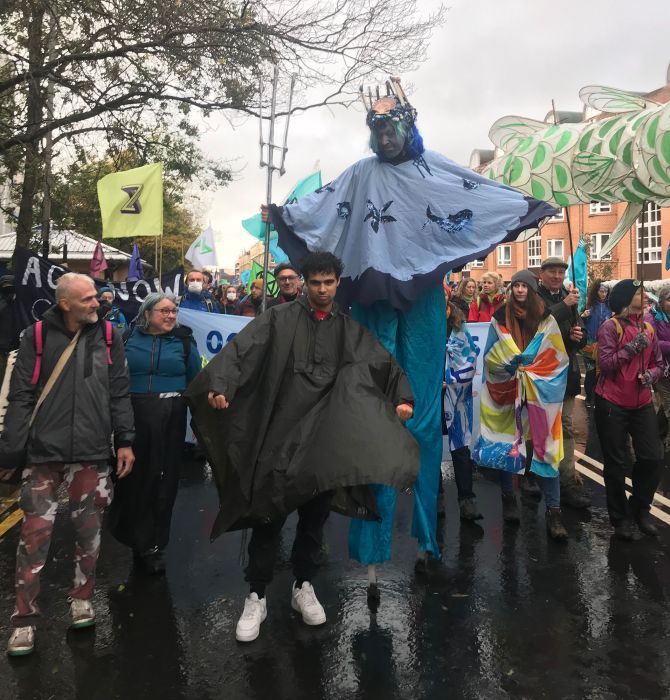 A protestor dressed as Poseidon poses with Ameila's partner at the march.
The following day I explored the city and observed the various demonstrations taking place. That morning I came across an Earth Vigil in the main square. One of the attendees explained that they had come together to grieve for our broken planet and to contemplate the changes needed for the world to flourish. The vigil was a striking contrast from the energy and noise I had experienced the day before and struck a somber note.
I went on to watch a global dance performance in Royal Exchange Square. The dance represented a way to deal with climate anxiety and expressed the voices of those all around the world who were unable to attend COP26. The astronomical prices for accommodation in Glasgow during the conference made it inaccessible for many ordinary people. While I was lucky enough to be given free transport by my university and have a friend to stay with, many attendees I spoke to were living in squats or sleeping in their cars. I heard news reports of activists, including Indigenous Elders, sleeping rough in the freezing temperatures. It was shocking that these were the sacrifices necessary for people's voices to be heard, especially those of Indigenous Elders when we have so much to learn from them about respecting our environment. 
Later that day I made my way to the demonstrations being held outside the Blue Zone, where the main conference was taking place. Protesters were teaching traditional Scottish dancing in the street and handing out delicious home-cooked vegan food. The protesters had hung a banner on the gates of the Blue Zone with the words "No dancing on a dead planet." Despite this sobering message and the swarms of police officers carefully monitoring our every move, we danced merrily in the streets as if no one was watching.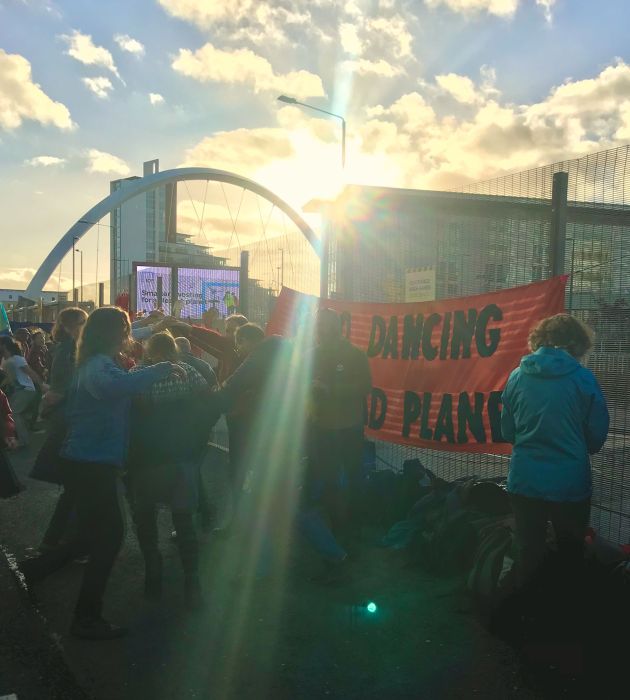 Protestors dance by the gates to the Blue Zone, where delegations were meeting at the main conference.
I then had the opportunity to visit the Green Zone, an exhibition space held in the city's science museum overlooking the River Clyde. I attended talks about youth empowerment and eco-initiatives in countries such as Ethiopia, Uganda and Brazil. I felt very fortunate to hear the voices of climate activists from all around the world on how they are inspiring positive change within their own communities.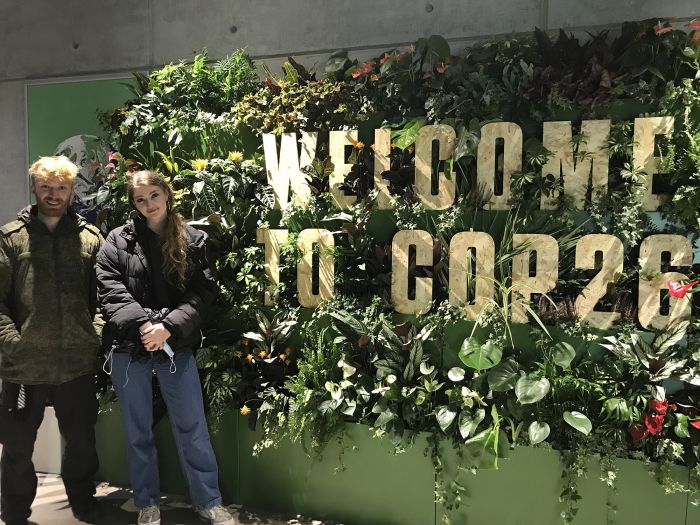 Amelia and a friend in the Green Zone exhibition space.
The highlight of my time in the Green Zone was hearing world-renowned primatologist Jane Goodall give a virtual talk at the Climate Science Olympiad award ceremony, a global competition for young people to develop solutions to climate change. Dr. Goodall's talk was eagerly anticipated, and she even greeted us with the call of the chimps she famously studied in Tanzania long ago. She spoke fondly about her memories of living among them and creating her community youth program, Roots and Shoots. It was truly inspirational when Dr. Goodall revealed that her greatest reason for hope is the young people of today. I am sure this will compel many members of the audience to strive to continue Goodall's legacy of environmental conservation. She concluded by speaking about the value of storytelling in both motivating environmental action and reaching the heart, which strongly resonated with me. 
On my final day I decided to explore the exhibitions within the Green Zone, where the principal partners of COP26 held showcases and "immersive experiences." It didn't take long to question many of the big corporations funding the event. Some are notorious for their connections to the fossil fuel industry, while others are infamous for polluting developing countries. The showcases consisted of big screens and displays about their future pledges, sustainable goals and the supposedly great progress they are making. It felt more like an advertising opportunity than anything else, and a distraction from the true purpose of the conference. 
Next door were pop-up exhibition spaces for scientists, youth groups and conservation charities to showcase their initiatives and climate solutions. It was clear to me these were the organizations that needed to be promoted the most at COP26. However, the exhibition spaces allocated were a fraction of the size of those of the principal partners. The spaces were cramped together and comprised little more than chipboard partitions enclosing a table and chair. It was uncomfortable to see such a stark difference and served as a painful reminder of the influence big corporations have, even at an environmental conference.
While I thoroughly appreciated the opportunity to experience COP26, the trip was somewhat overshadowed by the blatant greenwashing. It felt like politicians and companies were there to rebrand themselves and I could not help but agree with Greta Thunberg's denunciation of the event as a PR campaign. Overall, I am disappointed by the outcomes of the conference, particularly the last-minute switch in the commitment to phase out coal power to merely "phase down." This vagueness and watered-down language will help leaders dodge accountability for their inaction and it was incredibly frustrating to witness. While pledges such as the agreement to halt deforestation by 2030 sound promising, I remain skeptical of how they will be enforced. Other encouraging commitments made in previous years have done nothing but add to a legacy of broken promises. Indeed, other encouraging commitments have been made in previous years, and have done nothing but add to a legacy of broken promises. Admittedly, it is somewhat hard to trust the words of individuals who collectively took 118 private jets to attend an environmental conference.
It is, however, undeniable that COP26 dominated the mainstream media for weeks, fueling the global conversation about the climate crisis. These conversations will be crucial for generating momentum around the world and pressuring politicians to deliver on their commitments. I can only hope the coverage of the conference has encouraged previously uninvolved individuals to take action and join us in the fight for climate justice before it is too late. 
I will be forever grateful for my time with the demonstrators at COP26 and the sense of community they created. I remain touched by their kindness and how cheerful they were — even in the face of a potential environmental apocalypse. It was reassuring to be among so many like-minded individuals and, more than ever, I feel like part of a global movement that has humanity's best interests at heart.