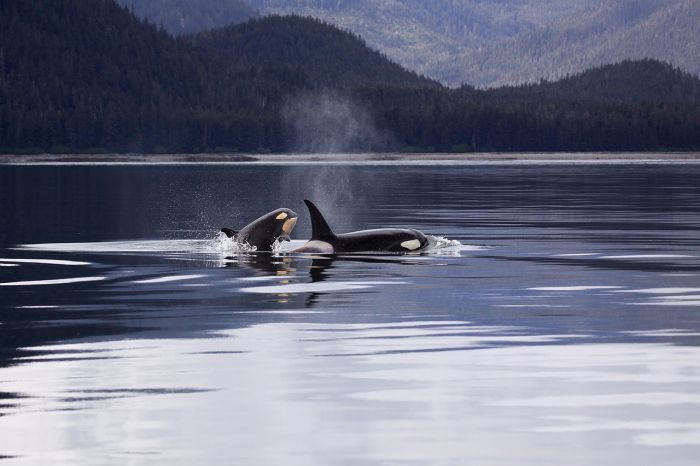 On December 18, 2018, the Center for Biological Diversity and the Wild Fish Conservancy threatened the Trump administration with a lawsuit under the Endangered Species Act (ESA) for allowing salmon fisheries to take too many salmon, which the critically endangered Southern Resident orcas depend on for food.
The impulse to protect the orcas is a good one. Southern Resident orcas are struggling to survive — only 75 remain. According to the statement by the Center for Biological Diversity and Wild Fish Conservancy, "The primary threats to Southern Resident killer whales are starvation from lack of adequate prey (predominantly Chinook salmon), vessel noise ...that interferes with ... foraging ... and toxic contaminants that bioaccumulate in the orcas' fat."
You probably assume, when reading that list of primary threats to the orcas, that the threatened lawsuit would demand an end to these harmful activities. But it doesn't. Instead, the organizations are merely asking the National Marine Fisheries Service — the agency responsible for issuing permits to Pacific coast fisheries — to deal with alleged violations of the ESA.
The Center for Biological Diversity and the Wild Fish Conservancy aren't asking that activities harmful to Chinook salmon, and consequently to the Southern Resident orcas, be stopped. They aren't asking for noisy vessels that disturb the whales' foraging behaviors to be prohibited. They aren't even asking for an end to the toxic contaminants that accumulate in the whales' fat.
Why aren't they asking for any of these things? Because under American law they aren't allowed to ask for them.
All they are asking is that these harmful activities receive the proper permits.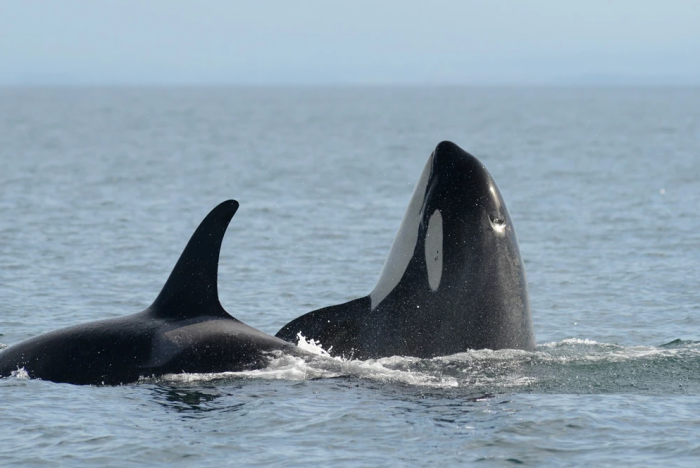 Photo by: Ken Balcomb, Center for Whale Research, NMFS Permit 21238
Right now, laws like the Endangered Species Act are the main legal means for protecting threatened species and habitat in the United States. But these laws only allow us to challenge permit applications and ask that projects complete the permit process.
While it may hard to believe, these permits are designed to give permission to cause harm. Regulatory agencies only regulate the amount of harm that takes place. They do not, and cannot, stop ecocide. Instead they allow for softer, sometimes slower versions of ecocide.
To understand this, it helps to know a bit about how the Endangered Species Act actually works. The Act prohibits any person, including any federal agency, from "taking" an endangered species without proper authorization. "Take" is defined as: "to harass, harm, pursue, hunt, shoot, wound, kill, trap, capture, or collect, or to attempt to engage in any such conduct."
You might expect that the Act completely prohibits any activity that "takes" an endangered species. But it doesn't. Under the Act, federal agencies may harm members of an endangered species as long as the activity is "not likely to jeopardize the continued existence of any endangered species."
While that may sound more promising, it isn't. When a proposed action is likely to jeopardize an endangered species, the agency can then issue an Incidental Take Statement (ITS), which merely sets a limit on the number of individuals of an endangered species that can be taken.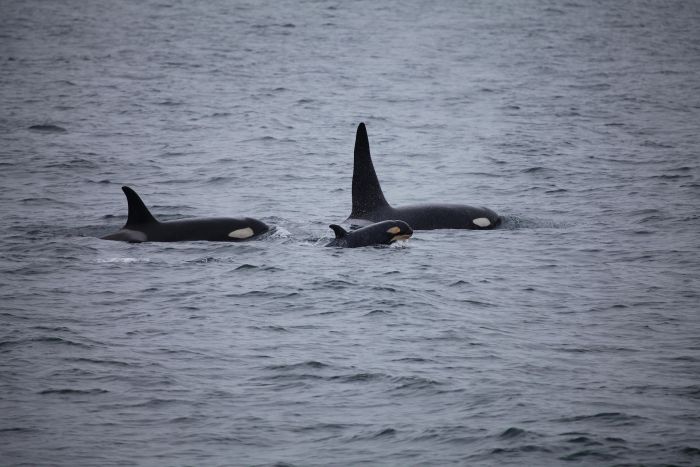 In other words, a species that has already endured so much destruction can legally be further harmed if that harm is in compliance with certain terms and the correct forms are filled out.
So an ITS allows a federal agency to harm endangered species. But there are also Incidental Take Permits (ITPs). These allow private entities to harm endangered species. All a private entity needs to do to get an ITP is create a plan that purportedly minimizes and mitigates harm to an endangered species.
The irony is not lost on Professor J.B. Ruhl, who describes the situation in his aptly-titled law review article, "How to Kill Endangered Species, Legally":
"Rather, when we strip away its noble purpose… at bottom the ESA is little different from the modern pollution control statutes which broadly prohibit a defined activity with one hand, then with the other hand give back authority to do the same activity under regulated conditions."
In the original 1973 version of the Endangered Species Act, ITS and ITP exemptions did not exist. They are the result of amendments passed by Congress in 1982 to undermine several pro-environmental Supreme Court decisions that interpreted the Act as broadly protecting endangered species. Those amendments are a powerful and dangerous loophole.
In a 2011 report, a trial attorney with the Environmental Crimes Section of the U.S. Department of Justice, Patrick Duggan, found that ITPs are being issued at alarming rates — and with ever-broader scopes. "In the first decade after the 1982 Amendments, there were 14 ITPs issued, by August 1996, there were 179, and by April 2010, there were 946 approved by the U.S. Fish and Wildlife Service (FWS) alone." Even FWS has acknowledged this trend of permissiveness, recently noting how the number of approved plans has "exploded."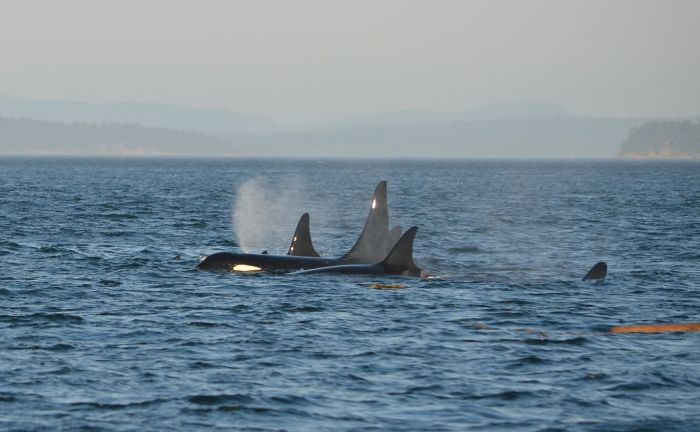 Most people mistakenly believe that regulations are being enforced by regulatory agencies. They're not. Some environmental lawyers call this the "regulatory fallacy." Not surprisingly, this drains focus from potentially more effective tactics by funneling it into a belief that government agencies will actually protect people and natural communities by denying permits.
The system isn't working — and it's very unlikely that it will protect the critically endangered Southern Resident orcas. But why doesn't it work?
To begin to understand why the Endangered Species Act is failing, it's helpful to acknowledge perhaps the most fundamental assumption of the Act and all similar pollution control statutes, as Professor Ruhl calls them. That assumption is that we have an inalienable right to use the natural world for our own purposes.
The answer to the regulatory fallacy, then, is to turn this on its head. If we truly want to protect endangered species like the Southern Resident orcas, our laws cannot treat them and their essential food source as objects or property. Instead, we must acknowledge their inherent rights to exist, and create laws that uphold and enforce those rights. True sustainability requires transforming the status of nature from a legal object to a rights-bearing subject.
This transformation begins with granting nature the legal right to challenge the conduct of someone else in court. As Supreme Court Justice William O. Douglas wrote in his famous 1972 dissent in Sierra Club v. Morton, this "would be simplified and also put neatly in focus if we fashioned a federal rule that allowed environmental issues to be litigated before federal agencies or federal courts in the name of the inanimate object about to be despoiled, defaced, or invaded by roads and bulldozers…"
In the US, the rights-based approach has been pioneered by the Community Environmental Legal Defense Fund (CELDF), a nonprofit, public interest law firm. Since 2006, CELDF has helped dozens of communities in ten states enact rights of nature laws. Their model uses a "Community Bill of Rights," which declares that citizens of the city or county have a right to clean air, clean water, etc., and that the natural communities within its borders have a right to exist, flourish, regenerate and naturally evolve. Natural communities are specifically granted legal standing and citizens are empowered to bring lawsuits to enforce these rights. This is similar to the way guardians represent children in court.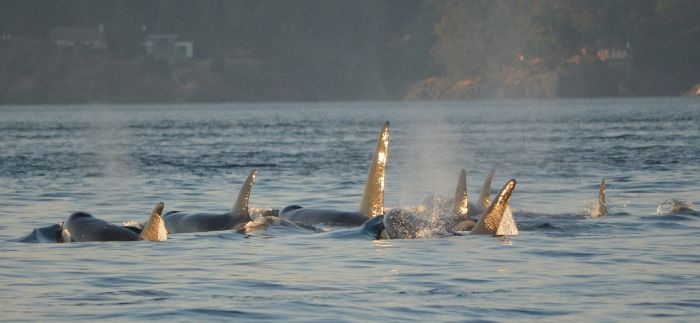 Southern Resident orcas range from as far south as California and along the coasts of Oregon and Washington. If the communities along the West Coast had rights of nature laws, they could now bring a lawsuit on behalf of the Southern Resident orcas, with claims that fishery practices, dams, shipping activities and pollution violate the whales' rights to exist, flourish, regenerate and naturally evolve. They could ask the courts to completely ban harmful fishery practices in order to protect the rights of nature, and to order those responsible for harm to pay for the regeneration of the natural community. They could seek this relief from the courts because the fundamental rights of the ocean and its residents are being violated.
What's more, because the plaintiff in such a lawsuit would be a whole population of salmon or whales, or even an entire ecosystem like the Salish Sea, the damages awarded would be measured according to the losses suffered by the natural communities themselves. And any award of damages would go toward the restoration of those communities, rather than to human plaintiffs who might not use it to benefit the ecosystem that has been damaged.
"We'd be having very different conversations and much more effective results if we approached recovery with the orcas' best interests in mind," says Elizabeth M. Dunne, Esq., who is part of a coalition that helped draft the Declaration for the Rights of the Southern Resident Orcas, led by the grassroots community group, Legal Rights for the Salish Sea. Dunne explains that, "by signing the Declaration, we want people, organizations and governments to recognize that the Southern Residents' have inherent rights, to recognize that we have a responsibility to protect those rights, and to commit to taking concrete actions to protect and advance those rights."
Environmentalists who engage within today's regulatory framework and rights of nature proponents begin in the same place. They both want to protect the natural world. But the way they frame the issue could not be more different. Environmentalists who rely on regulatory laws frame the issue as one of improperly prepared reports or how many parts per million of toxins may permissibly be released into water supplies. For example, the Center for Biological Diversity and Wild Fish Conservancy want to protect the Southern Resident orcas, but all they can ask for under the ESA is that the responsible federal agency "reinitiate and complete consultation on the Pacific Coast salmon fisheries" with new scientific information.
Rights of nature proponents, on the other hand, affirm nonhumans' value as subjective beings, framing the issue in terms of whether a proposed action violates their fundamental rights. Though we cannot put an orca on the witness stand to testify about the impacts that the National Marine Fisheries Service's plan has on her species, empowering humans to speak for her through enforcement of her legal rights brings nature's voice directly into the courtroom.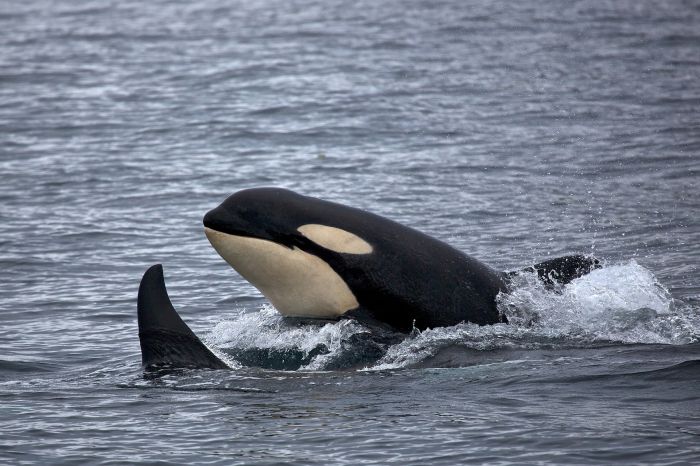 Originally listed as endangered in 2005, Southern Resident orca numbers have continued to decline. The Center for Biological Diversity reports that the population is at its lowest point in 34 years. And, "In 2014, a population viability study estimated that under status quo conditions, the Southern Resident killer whales…would reach an expected population size of 75 in one generation (or by 2036)." Instead, it was just four years later that the Southern Resident orca population stood at 75.
In the end, the only measure of success in this case should be the whales' recovery. The people of Washington aren't concerned that regulations haven't been followed— we're concerned that our neighbors, the Southern Resident orcas, are starving. We're horrified that these beautiful animals' right to life is not being respected and that their ecosystem is being destroyed. And we're outraged because deep down we believe that the natural world does have inherent value — and therefore inherent rights.
It's time to stop begging for regulatory table scraps. It's time to have the courage of our convictions and create new laws that recognize the inherent rights of the Southern Resident orcas and the Salish Sea as a whole to exist, flourish and evolve.