Voices for Biodiversity's Morgan Sanders reached out to speak with the founder of the Native Roots School of Ancestral Folk and Herbal Medicine, Morgaine Witriol, in Taos, New Mexico, on January 17, 2020. The school has a team of teachers who lead their Folk, Farm and Forest Youth Camp, as well as a four-month program for adult students and several other ongoing classes throughout the year. Here is an edited segment of what Morgaine Witirol shared with Morgan Sanders.
Listen to the podcast interview with Morgaine Witriol here.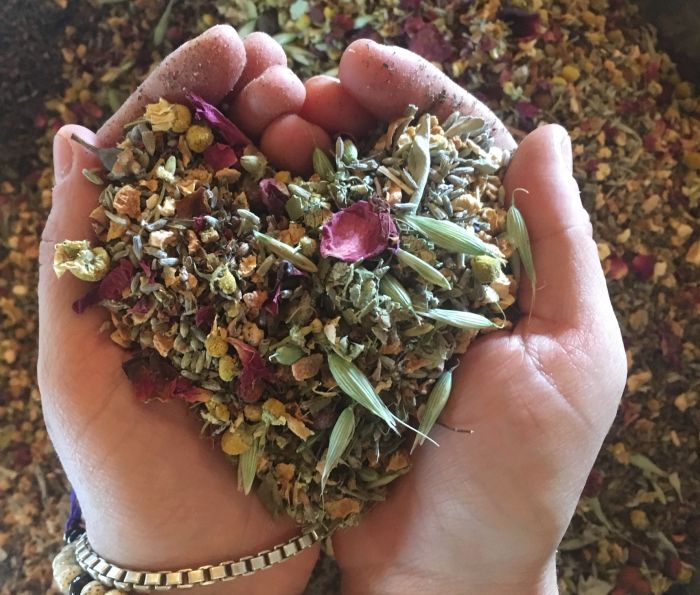 Handful of dried medicinal plants
Our school offers students a connection to land-based spirituality by creating a special relationship with the land. This starts with learning about medicinal plants. We educate our students not only about their medicinal properties, but also about how different plants grow in certain ways, and the cultural connections with those plants and the land that they grow on.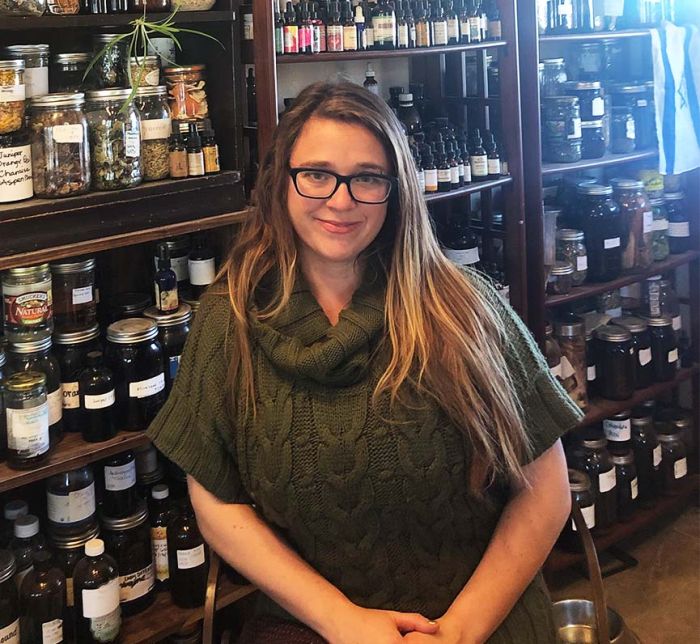 Morgaine Witriol with dried medicinal plants
While Emigdio Ballon teaches about very important topics like permaculture, sustainable farming and drought-resistant crops, he also explains why we have to connect with the earth and the soil, why we should talk to plants and why we need to grow plants that are not only nutritional for us, but also native to the land. 
Another of our incredible teachers is Henrietta Gomez. She is from Taos Pueblo and shares her knowledge of food as medicine. The kids in our Folk, Farm and Forest Youth Camp especially love her lessons about using micaceous clay from the Earth to create art.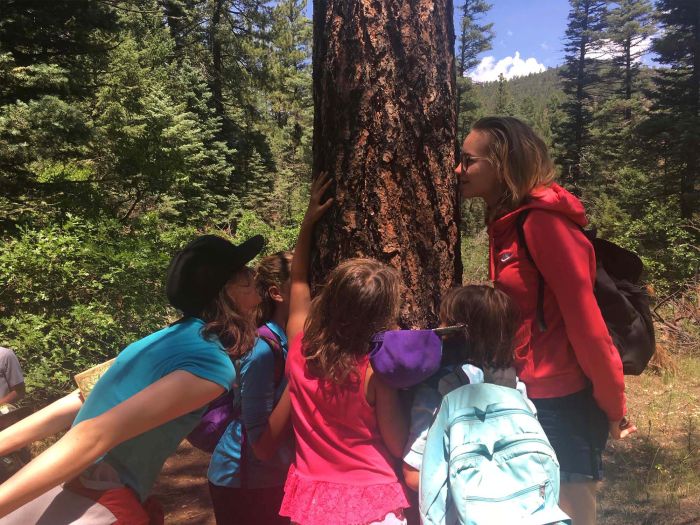 Class in Taos 
When you start to respect the land that you're living on, you start to want to take care of it because now you have a relationship with it. When you start to learn that the plants that are growing on the land are useful as food and as medicine, then you want to go into the mountains and harvest them, allowing you to take care of your community, your friends and your family, even your animals. Animals in nature will eat certain plants because they know they're medicine or they know they're food. Even when we see animals go out and purge in the spring, that's medicinal for them. When you're aware of what is right in your backyard or in the mountains outside your town, then you don't have to pay for medicine — you can go and take care of it in nature. And in return, we want to take care of that medicine or food because it takes care of us. Our school fosters this powerful connection.  
We also practice regenerative harvesting and sustainable techniques for growing and harvesting plants. When we take our students — both adults and kids — into the mountains, we talk about the best ways to save and spread seeds. If you harvest a root, for example, you're going to want to take the seeds and spread them around the stand so that the stand grows and expands. Or that you can plant a root top back into the ground so that the plant can regrow from the top of the root and also from the taproot. We want our students to recognize that there are all kinds of ways to take care of plants and take care of the land that we walk on.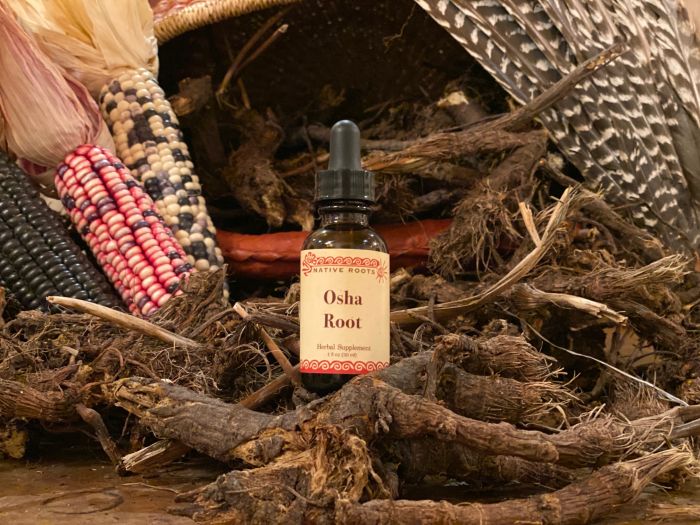 Oshá root, Oshá Tincture and Corn
Our efforts contribute to biodiversity because we are teaching people not just to take, but also to give back and to protect. We have a class in Guatemala in collaboration with Bio-Itzá, one of the only Mayan-run natural reserves in the country. This nonprofit takes care of a large portion of rainforest and our students get to go down there and study medical plants in the rainforest. This reinforces the importance of drawing relationships from and creating collaborations with other communities. Our students learn about what they're doing to protect the land and how to prevent people from over-harvesting. Protecting the rainforest is really important to them, and they pass that on to our students. By sharing their valuable knowledge and experience, they are empowering the next generation.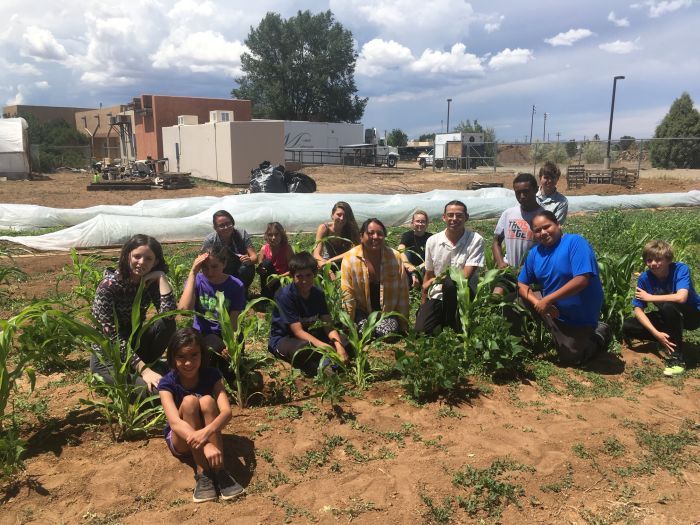 Class in Bio-Itza Guatemala
At the Native Roots School of Ancestral Folk and Herbal Medicine, there are bountiful opportunities to learn about all these differences in various climates, and connect to different cultures and understand what's working. When groups can share how they are taking care of the land, how they are protecting the land, everyone walks away more inspired and motivated. People who aren't connected to their land are displaced in a way — they don't have those roots. So the more you can get out there and get to know the plants and animals in your environment, the more invested, equipped and energized you are going to be.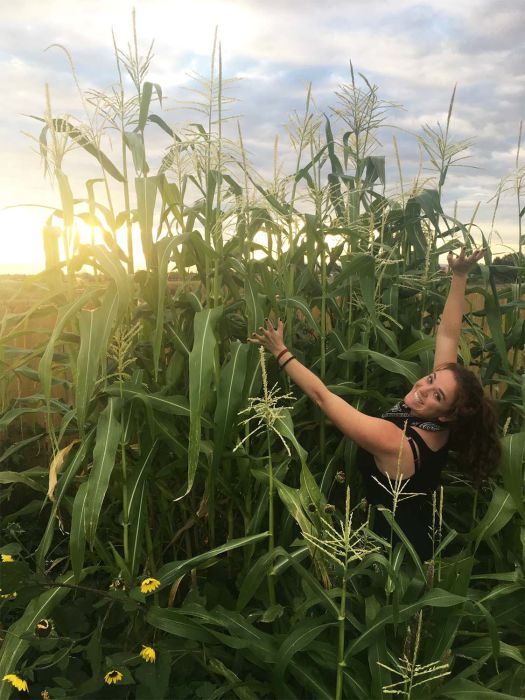 Morgaine Witriol with Corn