Hikers explore one of several state natural area preserves within Virginia's Clinch River Valley.
It's a cold November morning as I drive from my home in rural Wise County, Virginia, to the town of Tazewell, some 80 miles away. My journey takes me across the edge of the Virginia coalfields and through the headwaters of the Clinch River, one of the main tributaries of the Tennessee River system.  
Around 9 a.m., I pull into the gravel parking lot of Tazewell's Crab Orchard Museum, where my colleagues from communities across the Clinch River watershed are meeting. Inside, the setting seems primed for a typical profile of coal country. A stuffed golden eagle hangs on the wall, surrounded by horse-drawn wagons and relics used by underground miners at the coal industry's peak. Sandy Shortridge, a local folk artist, sings about mining and old-time religion as the meeting begins.
Despite the nostalgic mood, the meeting's theme is based on moving the region forward. The group gathered in Tazewell is the Clinch River Valley Initiative (CRVI), an effort formed in 2010 to revitalize communities in this corner of the Appalachian coalfields.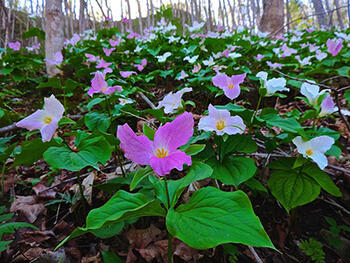 For the past several years, Appalachia has been making ongoing efforts to diversify local economies through initiatives ranging from local foodways to the tech industry. CRVI, however, is attempting to grow local economies around a different type of economic engine: biodiversity. 
The Clinch might be the most biodiverse river system you've never heard of. Running 135 miles from its headwaters in far southwest Virginia to the Tennessee state line, the Clinch is entirely unregulated by dams along its length.  
That, coupled with relatively good water quality, has allowed for one of the nation's largest collections of rare freshwater fauna to thrive. More than 100 non-game fish species call the river home, along with some 40 freshwater mussels, many considered globally rare. A similarly diverse collection of rare plants cloaks glades and barrens on the hillsides above the water.  
The individuals and organizations comprising CRVI have recognized that protecting this biodiversity offers more than intrinsic value – it can also benefit the communities along the river. The Clinch watershed contains some of the most heavily surface-mined areas in Virginia, and its communities' stories echo much of what has happened across the Appalachian coalfields in recent decades.  
As coal mining has declined, jobs – and people – have moved elsewhere, leaving economic distress in their wake. Some census tracts here have poverty rates approaching 200 percent of the national average. 
The Clinch River's biodiversity, however, has remained at a high level thanks to the efforts of biologists from southwest Virginia and beyond. CRVI's approach has been to harness this diversity as an economic driver by attracting tourism, linking struggling downtowns to the river and engaging citizens with efforts to conserve the river's unique natural heritage. This approach to ecotourism may not be a novel concept, but its application in the coalfields is somewhat uncharted territory. 

Big Cedar Creek is a hotspot for both aquatic species and rare plants within the Clinch watershed.
Several years into our efforts, CRVI's approach is showing some signs of success. Tourism-related tax revenues are up 14 percent, while nearly ten new businesses have developed around the watershed's outdoor recreation opportunities. Partnerships with groups such as The Nature Conservancy have led to new preserves and public access points, and efforts to improve water quality have cleaned up miles of riverbanks. Land acquisition is also in progress for a new state park that will further protect habitat and generate jobs for the region. 
The pace of this work is slow, and biodiversity alone won't be enough to save struggling Appalachian communities. But these communities are recognizing that intact ecosystems can be a crucial component of improving both local economies and the status of rare species over the long term.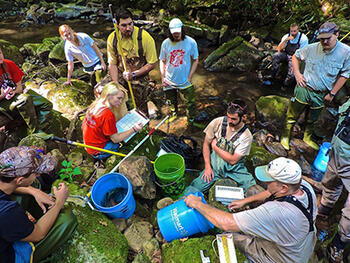 Back at the meeting in Tazewell, the usual tensions that so often characterize coal country don't make an appearance. There are no squabbles between conservationists and economic development experts. Despite the fact that it's just two days after the contentious 2016 presidential election, politics isn't mentioned once. Instead, ideas ranging from new canoe put-ins to projects assisting environmentally engaged entrepreneurs develop around shared goals.

Sandy Shortridge closes with one more song, a ballad about emerging from the darkness after a long night of working deep in a coal mine. "Every morning I thank God," the chorus rises, "for the journey to the light."  
This soulful sentence applies as equally to a former coal miner as it would a conservation biologist working to bring a species back from the brink of extinction. Regardless of our differing backgrounds, though, one thing is certain: this concept is one none of us can ignore. 
Photos are owned by Walter Smith, copyright protected, and may not be reproduced without permission.