If a picture tells a thousand words, then pictures and recipes together weave entire novels with their visuals, tastes and flavorful aromas. Think of a favorite dish and its preparation, and let your mind fill with pictures and emotions involved with each ingredient.

Meals have the power to satisfy something as simple as hunger or cure complicated emotional ailments. It brings love to a couple, a smile to the one who devours it. The delicious prose in How to Cook a Crocodile reminds me of the apple cake my grandmother makes: so delightful that one taste is not enough. Its memory has you returning until every crumb is gone, and still you want more!

Bonnie Lee Black's touching memoir about life as a Peace Corps volunteer in Africa possesses all the necessary ingredients to conjure up a great tale and is sure to delight any foodie reading the recipes at the end of each chapter. The recipes tie readers into Black's very personal journey and entice them to recreate the dishes in their own kitchen, creating a culinary kinship that can transcend experience and place.

The dishes range from the ordinary to the bizarre and include banana-nut cake, crepes, "Bonnie bread" and, of course, crocodile stew, a dish that, according to the accompanying tale, brought together two chefs that might have never met. Madame Nimba, a local from the village in which the author lived, passed on her crocodile stew to Black, and the women bonded over its preparation. With the Bonnie bread recipe, local women were able to make American-style bread and share it with their families. Black advanced her own culinary learning while passing along recipes to her new friends and neighbors through a shared kitchen experience.

Kitchens are found globally. The room itself may not be unified in appearance everywhere, but the only necessity is a compassionate cook who wants to take on the challenge of preparing something uniquely beautiful for hungry mouths. This is what Black accomplishes in her memoir, How to Cook a Crocodile. From upscale kitchens in Manhattan to her own house on the hill in Lastourville, Gabon, Black's presence can be felt in the kitchen and the meals provided by her hand.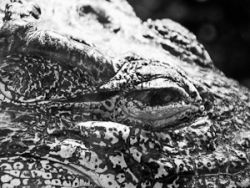 In the prologue, Black describes her book as the wild grandchild of Out of Africa and How to Cook a Wolf. It may have started as the flirtation between these two literary pieces, but the novel possesses stories only Black could recount. She eloquently describes exceptional accounts of survival and overcoming obstacles, such as a language barrier, diversity and returning "home" to Africa. Her stories travel from the kitchens of Manhattan's finest to the village of Lastourville and its friendly locals who became like family. Black takes readers on a journey to a land they may never encounter, but at her least recipes can be enjoyed as if readers stood alongside Bonnie in the kitchen, preparing each meal, hoping they don't see a snake on a limb outside the window!

Black never gave up, no matter what came her way. Even a severe burn from boiling liquids could not deter her from appreciating the time spent in Africa with a new-found lover who also appreciated a culinary taste. She also encounters unforgettable characters along her journey, people she looked up to, took in and with whom she shared intimate, fleeting moments.

In the end, readers will appreciate sharing in Black's adventures as she returns to her homeland of Africa. Pick up this book and join Bonnie Lee Black in the kitchen and across the world. The lasting impression will not disappoint!