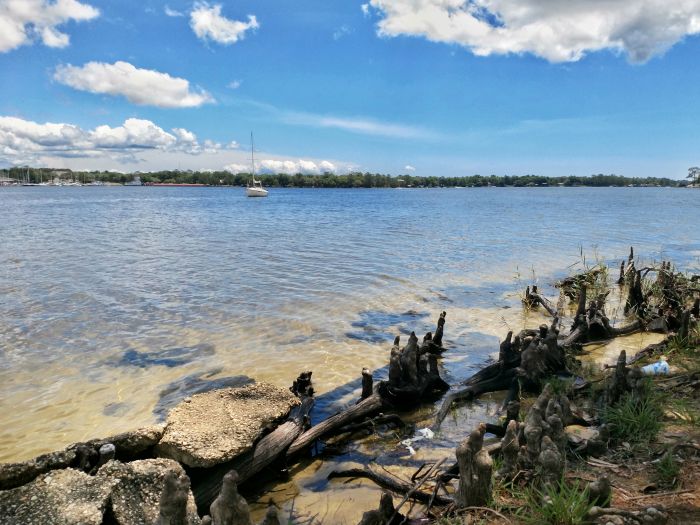 Choctawhatchee Bay encompasses a large estuary along the Florida Panhandle, a watershed that stretches across Okaloosa, Walton, Washington and Holmes Counties before extending into Alabama. Fed mostly by the Choctawhatchee River — the third largest river in Florida by volume — the bay exchanges water with the Gulf of Mexico through Destin's East Pass.
Bordered on the south side by barrier islands and in the north by pine forest, Choctawhatchee Bay is made up of a diverse range of habitats. Founded in 1996 by a group of stakeholders interested in preserving water quality, the Choctawhatchee Basin Alliance has spent over 20 years here improving swimmable, fishable waterways through education, research, restoration and monitoring.
A Living Shoreline at Live Oak Point
Alison McDowell, Director of the Choctawhatchee Basin Alliance (CBA), stood on the top of a Live Oak Point oyster reef breakwater, scanning the surrounding grasses. Built along the marsh coastline, CBA staff and the AmeriCorps NWF Environmental Steward team — then known as the Green Team — used fossilized oyster shell to break wave energy from Choctawhatchee Bay before it smashed into the shore. In addition to reducing erosion, the breakwater and accompanying living shoreline provide critical habitat for oysters and other aquatic species.
Begun in 2011, the Live Oak Point living shoreline and oyster reef breakwater resulted from a partnership with the NWF Water Management District and CBA. Initially, Live Oak Point — which protects Hogtown Bayou — was purchased by the Water Management District for mitigation, a swap for the wetlands lost when a section of US-98 was widened by the Florida Department of Transportation (FDOT). A mix of swaying marsh grasses, twisting live oak trees and bright green pines, the point is both beautiful and a biodiversity hotspot. To preserve the largest salt marsh in the bay from erosion, land managers wanted to build back the earth lost to erosion.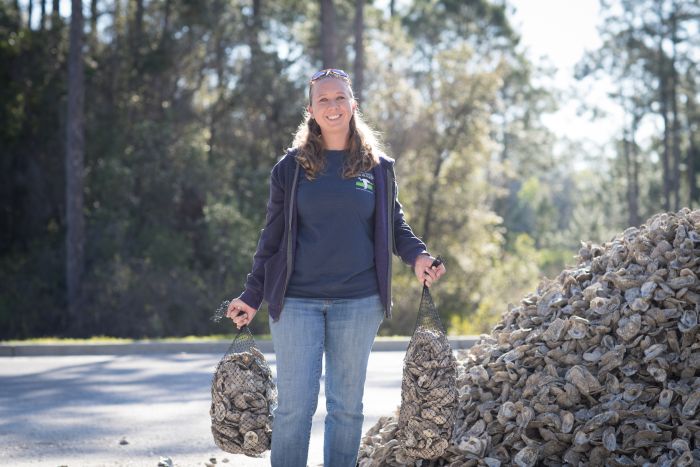 Photo by Sean Murphy
Living shorelines are defined by NOAA as "a protected, stabilized coastal edge made of natural materials such as plants, sand, or rock. Unlike a concrete seawall or other hard structure, which impede the growth of plants and animals, living shorelines grow over time." Because this green infrastructure alternative includes environmentally safe structural elements as well as native plants, they can protect and enhance biodiversity along the coastline. Often, living shorelines are cheaper than the sea wall or rip rap alternatives.
Since 2011, CBA has expanded its living shorelines initiatives across Choctawhatchee Bay. In 2018 alone, CBA constructed nearly 5,000 feet of linear reef breakwaters, partnering with private homeowners, public parks and Eglin Air Force Base. In addition to working with landowners, CBA incorporates living shoreline building into hands-on curriculum for elementary, middle and high school students in the local school districts, inspiring them to become future coastal stewards.
Across Florida, living shorelines are becoming more popular. According to the US Army Corps of Engineers, between the 2017 launch of new guidelines for permitting living shorelines and the summer of 2018, 34 small living shorelines (under 500 linear feet) have been permitted in Florida. In the same period, only 60 were permitted across the United States. While Destin and Pensacola remain living shorelines hotspots, the Norfolk area of Virginia also saw a mini-burst of living shoreline activity, totaling 13 permits.
As summarized by the Pensacola News Journal:
"Benefits [of living shorelines] can extend beyond property lines. Nitrogen pollution from lawns and farms that washes into waterways during storms, feeding harmful algae, can be reduced using oyster reefs and other shoreline ecosystems. Marsh growth can support fisheries and clean water, which support Florida's economy. And coastal vegetation slows climate change by absorbing carbon more effectively in some cases than forests."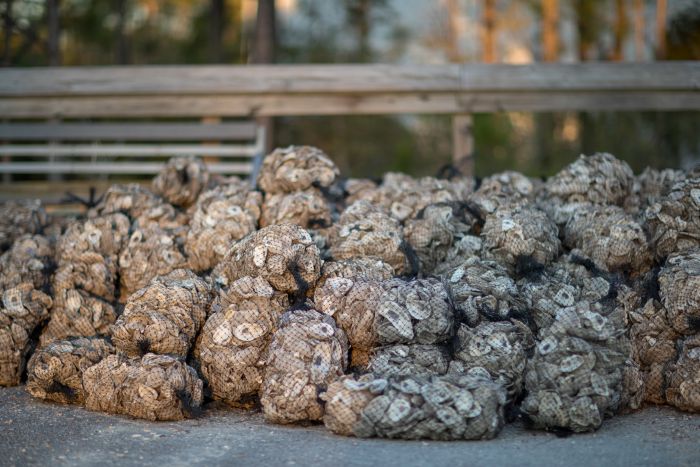 Photo by Sean Murphy
A Successful First Phase at Live Oak
Paul Thorpe, Chief of Bureau of Environmental and Resource Planning at the NWF Water Management District, remembers the initial vision for the living shoreline at Live Oak Point. "We wanted to restore some of what had been lost," he explains
Initially, CBA worked with the district to build 520 linear feet of living shoreline in three sites within Live Oak Point. Utilizing fossilized shell from Gulf Coast Aggregates, staff used marine-grade mesh to create 20-30 pound bags, placing them one by one in a pyramid shape near the shore. At high tide, the tops of the bags poke above the surface of Choctawhatchee Bay, the cracks and crevices within the bags themselves creating ideal hiding spaces for juvenile fish as well as crabs and shrimp. Finally, the team planted smooth cordgrass to hold the sediment in place and stabilize the shoreline.
In the ensuing years, the breakwaters continued to take the brunt of the wave energy that threatened to crash against the point. Dirt and soil built up behind the reef, held in place by the marsh grasses. Over time, the edge of the shore actually extended outward until it met the oyster shells, vibrant and green. Local anglers target the reefs for the multitude of fish species attracted to the structure, taking advantage of a fishing opportunity surrounded by a beautiful, natural landscape.
Increasing the Living Shoreline Footprint at Live Oak Point
The initial phase of the project was so successful that CBA and the NWF Water Management District are already planning expansions to further halt erosion.
Looking to the future, CBA is also planning the next phases of the Live Oak Point project. Some sections may be paid for with future mitigation credits as a result of FDOT projects, while still others may result from grants and donations.
"The Live Oak Point project was the largest we had worked on at the time," explains Rachel Gwin, CBA Restoration Coordinator, "and the site is only accessible by boat so it was a huge undertaking."
She continues: "We worked with different groups of alternative spring break students, sometimes totaling more than 50 people per event, and moved the bags from a barge to the shore by jon boat. Each group would ask how much the last did and aim to outwork them, so work was completed fast. It was one of my favorite sites to work on."
McDowell adds, "We had more than 600 students volunteer after the Deepwater Horizon spill."
Every year, McDowell and her team monitor the reef to measure both sediment accumulation and the species attracted to the living shoreline. In the future, they hope their project will continue to showcase good practices for reef building, as well as inspire others to turn to green infrastructure for their own erosion abatement initiatives.