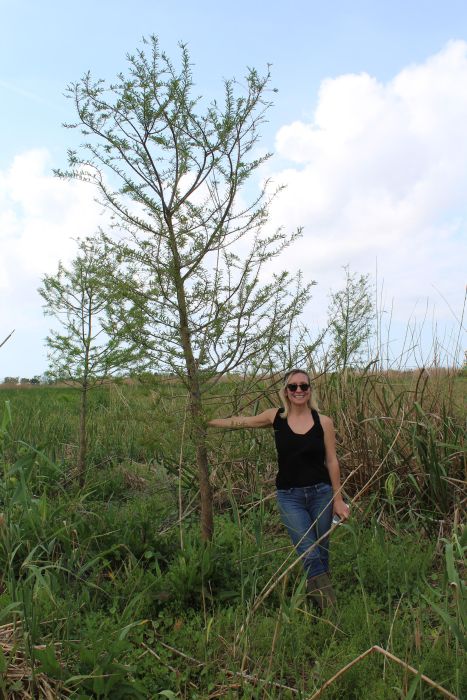 Taylor Marshall stands next to a five-year-old bald cypress tree
planted by Restore the Earth at one of their project sites
You can break a sweat in Louisiana without moving — just standing outside in the thick of the humidity is enough. If you're moving, it's not even a matter of minutes before you are covered in sweat. Mix the humidity with the musky smell of nutrient-rich mud, a bunch of mosquitos and the sun blazing down and you have a day in the wetlands. You always have to make sure you are making enough noise (talking or moving) to scare off the snakes and alligators.  
Luckily, I am usually in the mud with either a Restore the Earth planting team or our Louisiana Department of Wildlife and Fisheries (LDWF) partners, and we access the sites on amphibious Marsh Master buggies that are loud enough to scare almost everything deadly away. My favorite days are the ones in the field with our LDWF partners, scouting sites, checking on past plantings or planting with volunteers. Everyone we work with who was born and raised in the area is always so passionate about the work we are doing. They want more projects like these in their backyard to help restore the forests and healthy wetlands they grew up fishing and hunting in as kids, as well as the critical natural buffers that have historically reduced storm, flood and hurricane risks.
I was once this eager master's student in Canada, cold-calling people about coastal restoration in Louisiana as part of my master's thesis research. I had no direct connection to the state as I was born in Texas and raised in Canada, and have always been a bit of an outsider no matter where I've lived. But my surrogate grandmother — Dottie, a family friend — was raised in New Iberia, Louisiana, and I grew up loving her seafood gumbo, kid-friendly chicory café au laits and the Cajun French she spoke. Professionally, I was captivated by the state's position on the front lines of climate change, with its disappearing coastline, communities at risk, and industries that use the landscape for their operations and assets. I was interested in helping balance these competing needs.
While working on my master's in Integrated Water Resource Management (IWRM) at McGill University, I decided to focus on Louisiana's Coastal Master Plan. My greatest interest was in how to connect with communities and truly engage them in plans and decision-making about managing a critical shared resource like the Louisiana coast. The plan brought together all stakeholders, including residents, scientists, experts, and shrimpers. By choosing to develop projects and plans in consultation with community members and other coastal stakeholders, the Coastal Master Plan demonstrated a new approach to natural resource management that fascinated me and tapped into my passion for the environment — for protecting and restoring it — and for the people. 
With a master's degree in my back pocket, I got a job with The Water Institute of the Gulf and lived in New Orleans for six years. That's where my life and interests began to dovetail with, funnily enough, my parents and the Restore the Earth Foundation. They started the nonprofit after they retired because they felt like they should be giving back. With their business expertise, they realized they could be very effective in raising money for large-scale land restoration projects.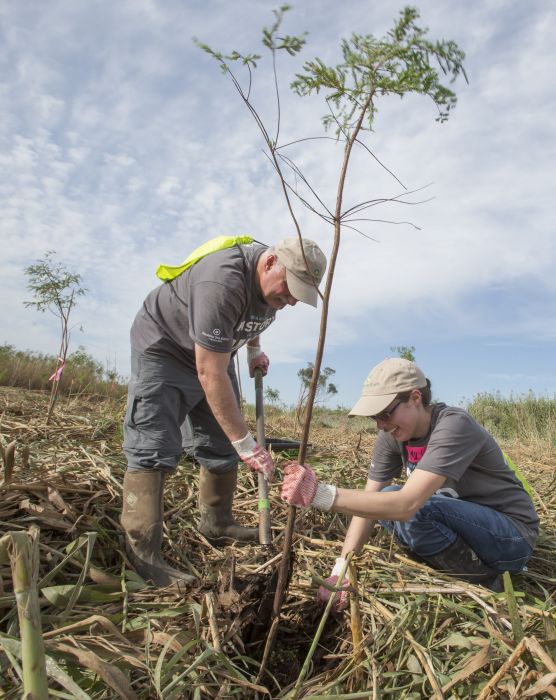 Planting a bald cypress tree on a volunteer planting day
By the time I had moved to New Orleans, my parents were already working on coastal restoration in Louisiana, which had become a focus after hurricanes Katrina and Rita in 2005. Louisiana has always lost a lot of coastal land, but today the loss is equal to about a football field every hour. My parents and I were working toward the same goal, and at one point my father said to me: "You can't deny that the stars are aligning." 
What excited me most about Restore the Earth is that it was involved in getting projects on the ground. I was eager for an opportunity with less talk and more action because that's what people are looking for in southeast coastal Louisiana. Their livelihoods, identity and culture are closely linked to the landscape. They grew up hunting and fishing in the forests and wetlands that defined the coast. People are passionate about the landscape, and they feel a great loss for their beloved way of life because the coasts have been so degraded. They want to see positive change. 
I love working at Restore the Earth because I can work with communities to bring that about. Not only does my job help restore and protect critical areas of Louisiana and return native habitat to the area, but I also get to work collaboratively with communities, local leaders, businesses and public agencies to deploy meaningful landscape-scale projects on the ground.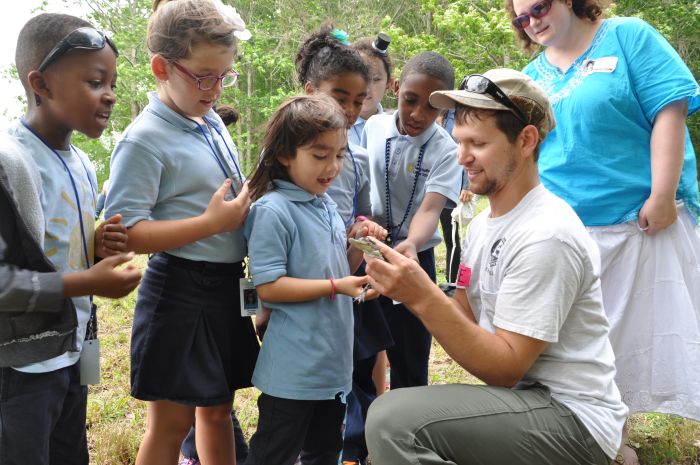 Louisiana Department of Wildlife and Fisheries staff show a baby alligator to schoolkids on a field trip to a Restore the Earth project site 
We at Restore the Earth have focused on restoring one million acres in the Mississippi River Basin. A million acres — planting 300 million native trees — is the tipping point where we will begin to see real benefit to our environment. A million acres will provide mitigation for about 220 million metric tons of carbon emission reductions in the atmosphere, and the start of what will eventually be a 12% reduction of the Gulf of Mexico dead zone, a 6,334-square-mile area of low oxygen that is killing fish and other marine life.
The land identified for restoration is along the Mississippi River, stretching from southern Illinois to the Gulf of Mexico. It's part of the Mississippi Alluvial Valley, widely considered North America's Amazon. The valley filters water, stores carbon and supports an enormous amount of biodiversity. Population growth and development — especially along the Mississippi River — have severely degraded the valley. It's also home to enormous concentrations of underserved communities. So, by restoring one million acres of the valley, we are benefiting people, too. We've calculated that once the land is restored, it will generate about $12 billion in economic, social and environmental benefits for local communities through quality-of-life improvements, job creation and the enhancement of recreational activities.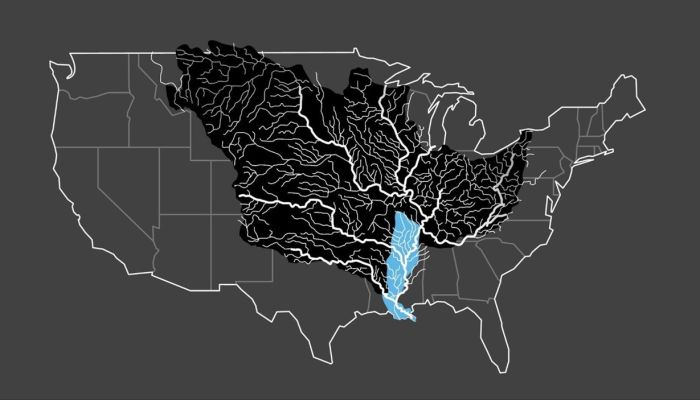 North America's Amazon: The Mississippi Alluvial Valley. The light blue area highlights Restore the Earth's one-million-acre reforestation goal.
Right now, I'm organizing a volunteer planting for November 2022. The site is just outside New Orleans at the Salvador Wildlife Management Area, owned and managed by the LDWF. We will plant bald cypress trees because they're native to the ecosystems of Louisiana and of high value to the environment. Mature trees store up to 800 gallons of water per day. They also filter water and can withstand powerful storms. Historically, most of coastal Louisiana has been bald cypress habitat.
The land managers and biologists in LDWF tell us what we should plant and how to make sure that appropriate restoration is taking place. We take great care to make the plantings successful and even use locally collected native seeds as they're adapted to the conditions of the area. 
Through volunteer events, our goal is always to connect with local nonprofits or community organizations. For the Salvador planting, we're working with community groups and St. Charles Parish. Chevron recently partnered with us to restore 8,800 acres by planting 1.8 million bald cypress at the Salvador site. This fall, there will be a lot of Chevron employees getting in the mud to experience hands-on planting. 
Getting corporate partners involved in planting is actually one of my favorite aspects of this work. Going to the bayou and planting in the wetlands makes something click for the employees who participate. Meeting members of the communities that are adjacent to the projects, speaking to land managers where restoration is taking place or putting a tree into the ground gives people a strong sense of conviction about why they are partnering with Restore the Earth. 
At this volunteer planting, we will plant about 1,000 trees. That's a drop in the bucket of course, but community support is so important. And it's fun to get in the mud and then go back to the sites later to see how your babies are growing.  
30-second video on Restore the Earth's planting process at the Salvador site
Restore the Earth's corporate partners choose to finance landscape-scale restoration for various reasons. Increasingly, they are responding to pressure from employees, shareholders and the general public to decrease their carbon footprints. Many have made commitments to carbon offsets, including carbon capture projects such as reforestation. The offsets allow them to meet corporate commitments to environmental, social and governance (ESG) goals, sustainable development goals (SDGs) or net-zero targets. 
Once funding is secured for reforestation, we work with our public partners to identify suitable sites. Then we work with our partners at Eco|Restore to grow the native tre­­­­es from seed and commercially plant the acres. Once we reach 20,000 acres, our plan is to build on the momentum and increase our planting goal to 50,000 to 100,000 acres every year. The good news is that there's a strong appetite for restoration because of growing concern about the climate crisis.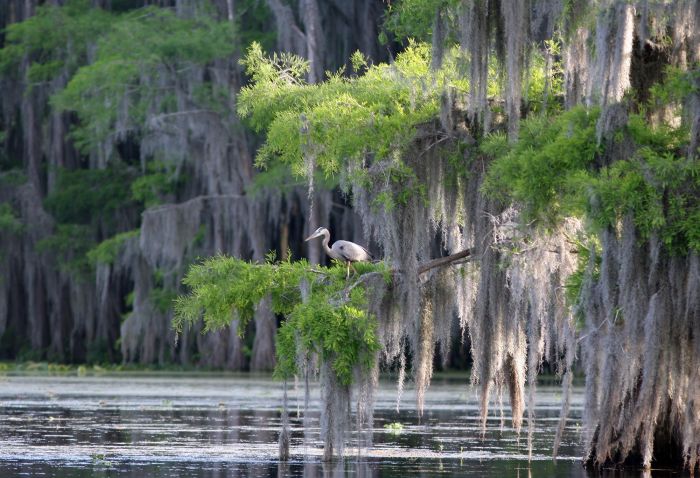 Native wildlife in a mature cypress forest (not planted by REF)
I've always known that I wanted to help the environment in some way. As a Canadian, I had the privilege of growing up in a country with vast open spaces, which gave me a great appreciation for the outdoors. I spent a lot of time in nature as a summer and winter camper. Ten-day canoe trips in the wilderness were always a favorite. Giving back to our planet has always been a priority in my life and now that I have a daughter, leaving the world a better place is even more important to me. It's so rewarding to wake up in the morning every day and know that I am part of the solution. I couldn't do anything else.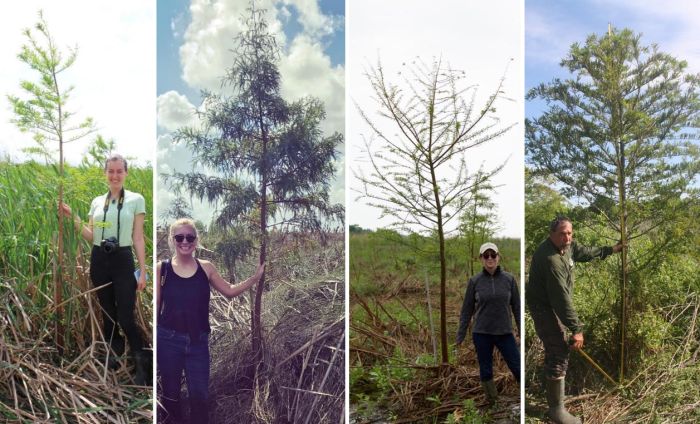 Restore the Earth and LDWF staff next to cypress trees at one of their sites to show growth over the years 
All photos and videos courtesy of Restore the Earth Foundation