In the mid-1970s, Dr. Robert Hitchcock was an anthropology graduate student at the University of New Mexico. In 1975, Hitchcock was one of several graduate students who traveled to the Kalahari Desert region of Botswana to undertake interdisciplinary anthropological research. When the group arrived in the northeastern Kalahari, they found a very troubling situation.
"The government of Botswana had entered into an agreement with the World Bank to commercialize some grazing land in the area where we were working and living, turning them into cattle farms. which would then be leased out to wealthy cattle owners," Hitchcock explains.
In the Nata River region near the Zimbabwe border and the east-central Kalahari, rural people – the majority of whom were San (Bushmen) – were being relocated with "no promise of alternative land or compensation." Hitchcock started working on land rights in September of 1975 and continues his important work to this day.
The Kalahari Peoples Fund (KPF) is nonprofit that arose from the Harvard Kalahari Research Group in the late 1960s to early 1970s. KPF is now comprised of anthropologists, development workers and other individuals who dedicate their time to the advancement of the San, Bakgalagadi and other people of the Kalahari Desert region of southern Africa. Dr. Megan Biesele is the group's director and Hitchcock sits on the board.
The organization provides services such as assessing governmental and international agency policies, supporting local-level education and capacity-building, and advocating for conservation. On that front, KPF is currently focused on serious questions about how to approach community-based natural resource management. The impacts of elephants on water facilities and the effects of lions and other predators on people's livestock and poultry are specific issues that concern local citizens. Thanks to the KPF, human-wildlife conflict is being approached through strategies aimed at keeping wild animals alive and assisting in conservation-oriented measures such as providing alternative water sources and protecting domestic water supplies and livestock herds.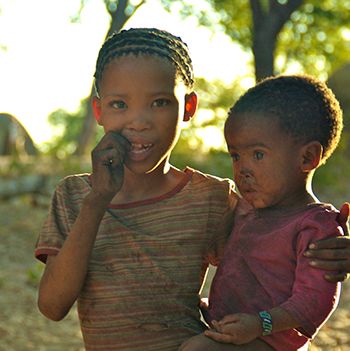 Hitchcock notes that he works with colleagues to look not only at the environment, but also at the roles of the people in those habitats. "How do you balance the needs of both animals and people?" he asks, summarizing the group's challenge.
A very difficult question indeed. Hitchcock and KPF work alongside other NGOs and local people to balance human-wildlife conflict. Lobbyists for ecotourism, photographic tourism and hunting all have their own ideas about the best ways to solve these problems. KPF tries to negotiate among the opposing parties and come up with measures that protect animals, and promote local employment and income-generating opportunities.
One particularly contentious issue involves commercial safari hunting. It generates some benefits for local communities, but it also has negative impacts on wild animal numbers and diversity. Botswana has chosen to outlaw hunting altogether, while Namibia allows safari hunting – alongside the limited subsistence hunting of locals – in exchange for benefits such as meat, jobs and funding to community institutions.
Hitchcock notes that, despite conflicts, most indigenous people have a favorable view of wildlife. "The vast majority of people seem to want to live side by side with wildlife without destroying it," he says.

Outside of conservation, KPF tackles important human rights issues relating to southern Africa's indigenous and minority peoples. Hitchcock says some governments do not always have the best interests of indigenous people in mind when framing development policies. KPF acts as a liaison between indigenous group and the governments of south African nation-states in order to mitigate these disputes.
"The primary focus at the moment is the village schools program in Namibia, which is being done in conjunction with the Ministry of Education," Hitchcock says. "KPF has also been working on poverty alleviation in Botswana, Namibia and Zimbabwe, and is assisting in promoting community-based programs."
The group continues to work toward making the issues of Kalahari peoples visible on a global scale.
"The Kalahari Peoples Fund is not the biggest player on the block, but it's been influential because we've been doing it for fifty years and we work at the local [level]," Hitchcock says.
All photos copyright Dr. Robert Hitchcock. They cannot be used or reproduced without permission.