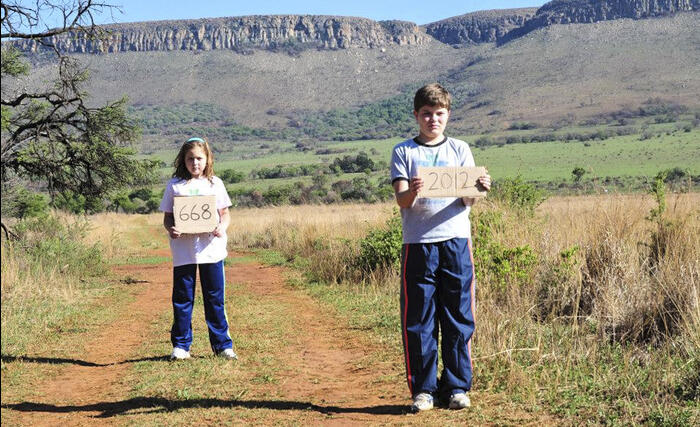 Olivia Ries and Carter Ries in the first scene of a documentary film. In 2012, 668 rhinos were poached.
Carter, age 14 and Olivia, age 12, became interested in environmental conservation when their aunt expressed her concern about declining cheetah populations. As a result, Carter and Olivia decided to begin adopting cheetahs in South Africa. Then, after learning that many other species were facing extinction, they founded the nonprofit One More Generation (OMG) in 2009. Located in Fayetteville, Georgia, the organization's mission is to ensure that endangered species survive for one more generation and beyond. OMG focuses on key environmental issues including the preservation of endangered species worldwide, protecting our planet's oceans, and protecting the environment. This organization, founded by two children, today educates the public about the environment and the importance of biodiversity.

Rhino Poaching Education and Outreach
One More Generation currently focuses on spreading awareness about rhino poaching. The process of horn harvesting is painful and the animal is often left bleeding to death. At the current rate of slaughter, by the year 2031, the rhino species could be extinct.
Carter and Olivia traveled to South Africa to learn firsthand about rhino poaching. During their three-week visit to South Africa, the OMG founders spoke with over a dozen schools about rhino poaching. They also visited a Rhino Orphanage for young rhinos whose mothers were poached.
Trinity House School in South AfricaThe One More Generation team is currently producing a rhino poaching documentary which highlights the cruelty of poaching practices. The film focuses on the dramatic disconnect of information between poachers and the people who purchase and use the horns.
Through One More Generation's Rhino Letter Writing Campaign, in partnership with Rhino South Africa, they have collected thousands of letters from people all over the world to pressurize South African President Jacob Zuma to allocate more resources to protect the species. Olivia and Carter later returned to South Africa along with the many letters and hand delivered them to President Zuma's Office of Environmental Affairs.
Since their visit to South Africa, Carter and Olivia have continued to support initiatives focused on reducing poaching practices. After returning from their trip, the children continue to educate communities and classmates about this issue. Kelly Mill Elementary School created Elvis the Rhino, the world's largest paper maché rhino. After being on display at the school, Elvis was moved to the Hartsfield-Jackson Atlanta International Airport. The life-sized paper maché rhino also includes letters and pieces of artwork sent to Carter and Olivia addressing the issue of rhino poaching.
Plastic Pollution Awareness
In addition to species awareness, Carter and Olivia have put a great deal of effort into fighting plastic pollution. They worked to create a weeklong Plastic and Recycling Awareness Curriculum for schools across the nation. Each school implements a five day program on recycling education, which covers important concepts such as the recycling process, and its effect on energy conservation and reducing greenhouse gas emissions. Some of the key points of the curriculum focus on teaching students to conservatively use our planet's resources. This interactive and rigorous program helps students think outside the box as the siblings work in local communities to inspire the public into becoming more environmentally conscious. The program implements hands-on activities that challenge students to use their creativity and problem solving skills to make more environmentally friendly decisions on a daily basis. It also teaches students firsthand how they individually affect the health of the planet, and how they can work together to create solutions to environmental problems.
The Plastic and Recycling Awareness Week program has been used in over a dozen schools in the United States, with classes averaging 700- to- 800 students, and it has been used by schools in the United Kingdom and parts of Australia. Students are able to take the lessons they learn back home, and teach their families proper recycling methods. Schools who wish to participate in the plastic awareness program are given access to the One More Generation Resource Center, which includes daily lesson tasks, video clips, fact sheets, and additional environmental footage to use during the weeklong program.
            A sea turtle made from trash     
During Day Five of Plastic and Recycling Awareness Week, Northwood Elementary School students created an installation sculptured a massive sea turtle with all of the plastic trash they had collected from their homes.
The Future of One More Generation
What advice might Carter and Olivia give to other kids trying to promote environmental conservation for future generations? "Never give up and follow your dreams," Comes the quick response. The two young founders of One More Generation firmly believe that anyone, no matter what age, is capable of making a dramatic difference. The OMG duo has demonstrated that you can turn any idea into positive action. Not only have they spread their knowledge and initiatives to their peers, but they have also reached out to educate people of all ages in their community and internationally.
Additionally, Carter and Olivia are interested in protecting more threatened species including orangutans and Asian elephants by focusing on habitat destruction. The high-aiming siblings plan to carry out elaborate campaigns regarding these two species, and they hope they will be as effective as the rhino campaign.
If you are interested in reaching out to Carter and Olivia, visit their website One More Generation.