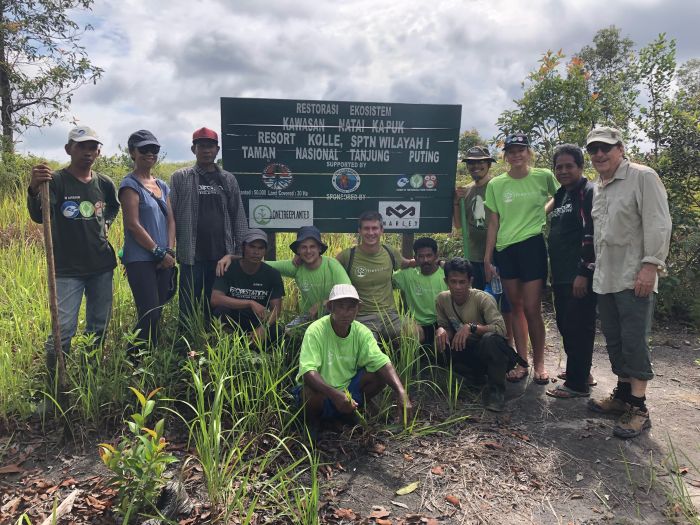 Farquhar Stirling is a retired corporate executive who lives in Indonesia. He is also a volunteer with the Friends of the National Parks Foundation (FNPF), an NGO working in habitat restoration in Kalimantan (Indonesian Borneo) and in Bali, where they are headquartered. Tanjung Puting National Park and the surrounding area has outstanding plant and animal biodiversity, but is under threat from land clearing for palm-oil and logging.
I jumped at the opportunity to revisit Indonesia's important and wildlife-rich Tanjung Puting National Park in Central Kalimantan earlier this year. Dr. Bayu Wirayudha, the charismatic founder and director of Friends of the National Parks Foundation (FNPF), was heading there to review progress at the volunteer center in Jerumbun just outside the park, and my fellow volunteers and I were eager to see what had changed since our last visit. FNPF's volunteers come from around the world to help with replanting trees and other tasks while learning about conservation on the front lines.
The visit got off to a great start – the staff on our klotok (river boat) had gathered a whole sack of the fascinating small forest durian that grow in the forest in that part of Kalimantan. These durians are remarkable for not having the painful spikes (duri) that make the usual variety of this pungent but delicious fruit so difficult to open. Instead, the spines are soft and pliable, and can be handled easily. Kalimantan forest durians also display a range of colors and textures, including orange and red varieties, in contrast to the creamy yellow of the more common variety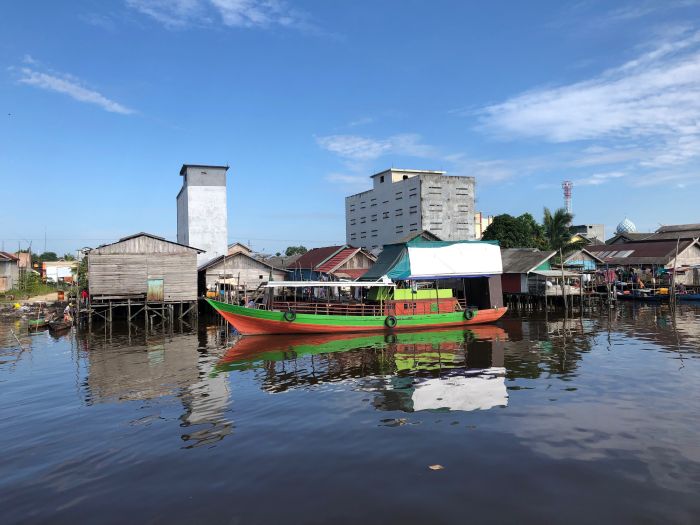 We were enjoying this delicious forest bounty when the boat nudged its way into the brown waters of Kumai Bay. As we neared the mouth of the Sekonyer River, which defines the boundary of the National Park, another surprise awaited us. We asked the crew if they ever encountered river dolphins, something I've been trying to see for many years. Yes, they told us, we see them often, just up ahead. I had become a little skeptical after years of searching, so I had low expectations that this time would be different. But, to our surprise and delight, a thin grey-brown shape appeared, with a tiny dorsal fin, and did a perfect "dolphin" rolling dive before disappearing into the muddy, swirling waters at the mouth of the river. Amazing! The Irrawaddy dolphin (Orcaella brevirostris) is a distant relative of the orca (killer whale), found in the coastal areas and rivers in the Bay of Bengal and in parts of Southeast Asia, including the Mekong River and the rivers of Borneo. This short-beaked dolphin has a distinctively cute expression, reminiscent of the smiley-face emoji.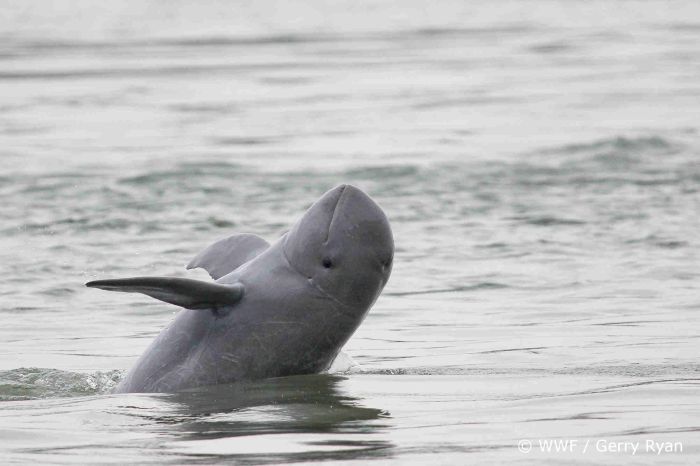 The journey up the Sekonyer River has to be one of the world's most interesting wildlife viewing opportunities. As the klotokslowly chugged its way upriver, we sat, eyes glued to the green riverbanks, eager for the next wildlife sighting. The first stage of the trip passes through uniform ranks of nipah palm, which slowly give way to lowland rainforest. Aside from the river dolphin, we spotted salt-water crocodiles, orangutans, proboscis monkeys, macaques, storks, kingfishers, woodpeckers and numerous other bird species.
The comical proboscis monkeys, with their long brown tails hanging down like a bell-pull and long pointed noses, appear calmly indifferent, but the macaques manically leap to the branches near the river, and shake the trees in fury at our disturbing their daily routine. A hairy red mass in the trees ahead turns out to be an orangutan reaching for fruit in a river-side tree.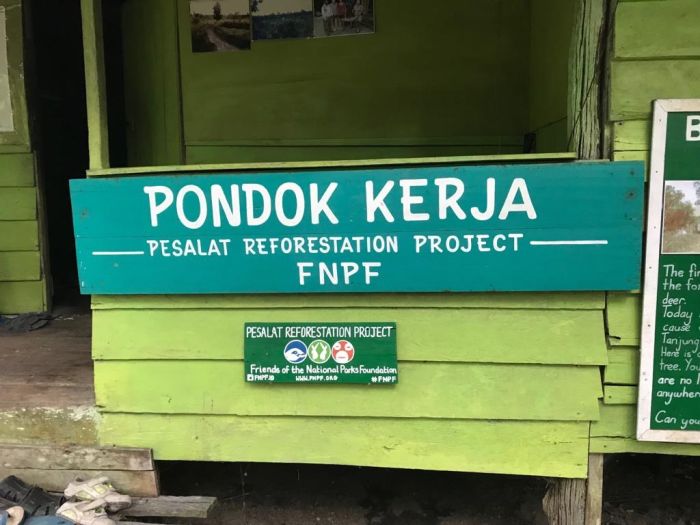 The FNPF Center in Tanjung Puting is several kilometers up the Sekonyer River, so there's no alternative but to sit in the boat and enjoy the scene unfolding in front of you. We were going to spend three days at the FNPF Center in Jerumbun, where Rusdi, the long-time cook, rustles up delicious fried fish from the river, chicken from the yard, and fruit and vegetables from just outside the kitchen door.
Upon arrival, we met two volunteers, Ignacio from Argentina and Piotr from Poland, who had been busy planting saplings near the center, including in parts of the forest that had burned down during the previous forest-fire season.
On our first day at the Jerumbun Center, we joined FNPF staff and volunteers in replanting a fire-hit area of forest behind the center toward a local gaharu (agarwood) plantation. It is particularly sad to do the back-breaking work of replanting trees that were originally planted but then ravaged by the forest fires that are becoming more common with every passing year, thanks to the climate crisis.
To undertake our reforestation work, FNPF collects saplings from the forest, which are tended in the FNPF nursery, and also buys seedlings from local villagers. The trees are all indigenous to that part of Kalimantan and wildlife friendly, providing food, cover for protection and nesting, and fruit and flowers. The species are also notably resilient and relatively fast-growing.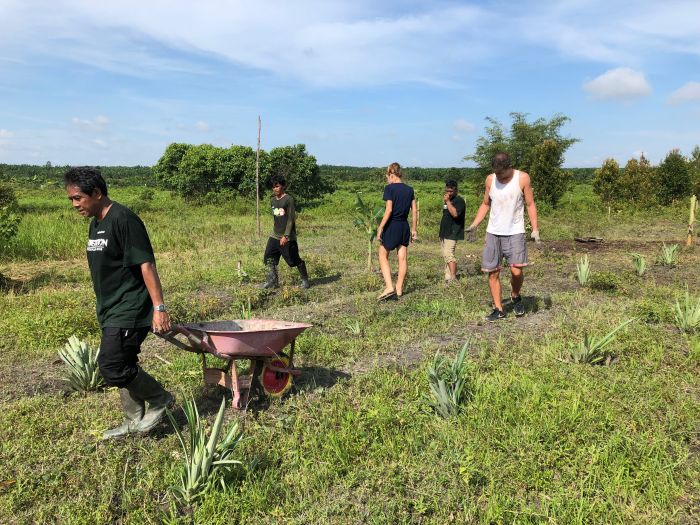 They also provide other benefits. (Note: I have used their local names; they will have other names in other parts of Kalimantan.) Nyata (palladium), for example, offers good timber for crafting furniture. Gaharu (agarwood) resin is greatly prized in the Middle East, achieving astronomical prices on the international market. The frilly, pine-like leaves of aru (casuarina) are familiar throughout Indonesia, and its fruit and roots are used to treat kidney ailments.
Amang is also ideal for furniture. Palawanwood is used to pound rice. Medangcan be used for furniture, and birds and other animals love its fruit. Betapai is used to treat diarrhea and to stop bleeding after a woman has given birth.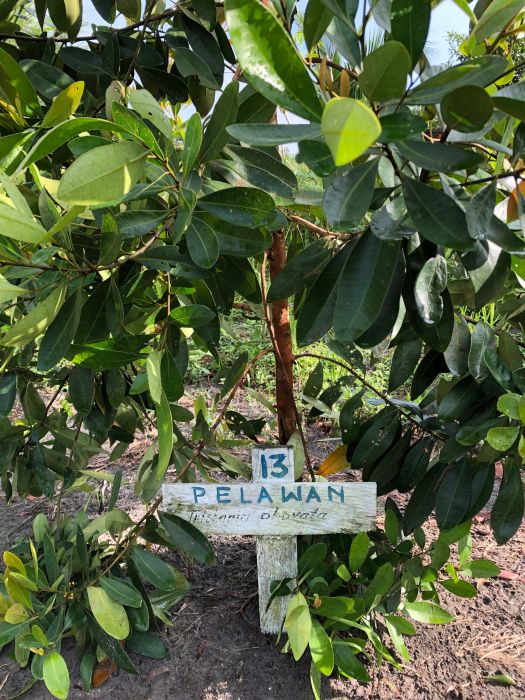 Sindur seeds alleviate kidney stones. Sindur oil is used as a fuel for lamps and its wood is valued in house-building. Ubarsap makes cloth hard and waterproof.
Tenkawang, a protected species, is used in building and the fruit is dried to create oil for frying fish and other food. It is also used to soothe babies' skin problems and treat mouth ulcers.
The species of saplings we plant have all been carefully chosen to enrich the local forest environment. We love that each species offers multiple benefits and positive impacts on the local environment, for both humans and wildlife.
We were back on the river on our second day, lugging saplings and tools to a site within the national park that had been cleared by forest fires. We were surprised to find that the river upstream of Jerumbun is clogged with water hyacinth (E. Crassipes), making navigation quite difficult. This is a new development.
Natai Kapuk is a beautiful piece of land near the river. We spent the day planting mainly papungtrees, whose edible fruit provides food for wildlife, as well as some belangeran, which is useful for building, and aru.
As we worked, we could hear the ominous roaring of chainsaws on the opposite bank of the river. Outside the national park, the rainforest was being cleared, most likely for a palm oil plantation.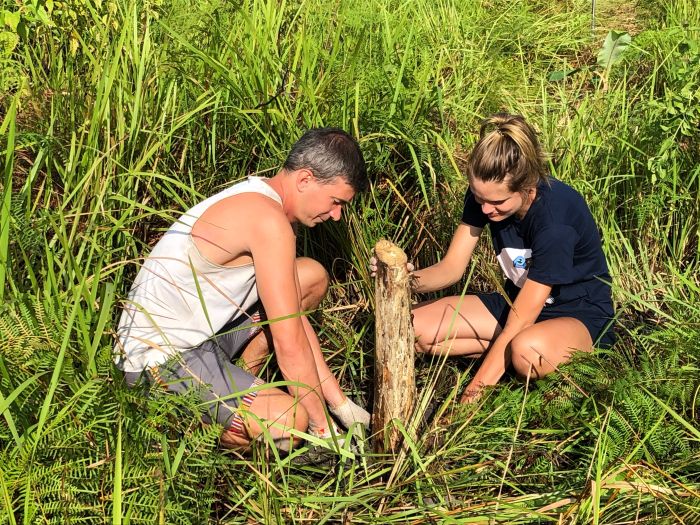 We spent our third day working in the gardens that surround the center's buildings with Pak Ledan.A native of the village of Tempayung, not far from Tanjung Puting, he is a valuable member of the FNPF's permanent staff and a walking encyclopedia, with a huge store of knowledge of local plants, herbs and wildlife. He joined the national park staff in 1980, looking after wild and re-introduced orangutans. It was a challenging job, involving tracking the animals until they made their nests in the evening. His next challenge was conducting research on the Proboscis monkeys in the park, but that came to an abrupt end when he was chased away from his work-sit by illegal loggers.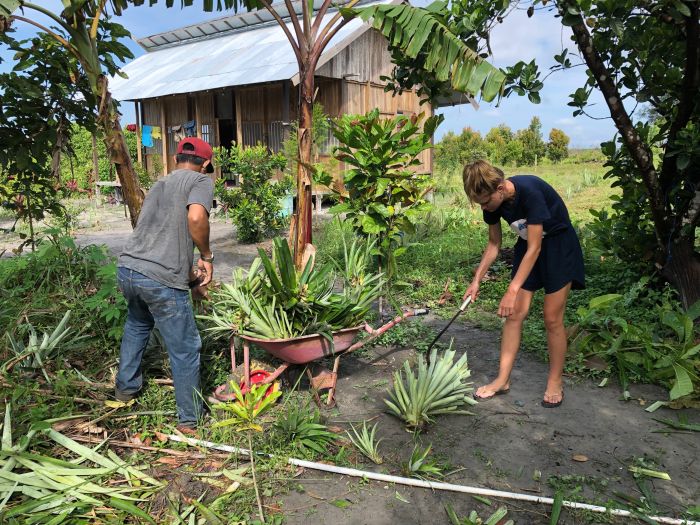 Pak Ledan has been with FNPF since 2003, often stationed on his own, deep in the forest. We are beyond grateful for his dedication to our mission and constantly amazed by his vast knowledge, including all kinds of medicinal plants that have allowed local communities to treat illnesses and guard against sicknessfor generations. That irreplaceable trove of knowledge, however, is in danger of being lost when people like Pak Ledan are no longer around. Given appropriate funding, FNPF hopes to protect and share this intellectual capital, by collecting and saving the knowledge of local people such as Pak Ledan.
The gardens around the Jerumbun Center have a huge variety of fruits, vegetables, herbs and spices. No one goes hungry with this garden on the doorstep.
Among the fruit you will find are guavas, pineapples, bananas, mangoes, jack-fruit, soursop, rambutans, oranges, limes, kubing (sweet and sour, somewhat like an apple), papayas, avocados, cashew fruit, passion fruit and the king of the forest, durian!
Herbs and spices are no less abundant. We enjoy ginger, turmeric, galangal, white ginger, holy basil, lemon-grass and hot red and green chilies.
The vegetables include eggplants, tomatoes, cassavas, yams, taro, long beans, chives, pumpkins and marigold leaves.
Did I mention that we also have coffee and coconuts?
There are also many wild forest plants that provide food for humans and other animals, including (local names) idur (a small fruit), jinjit, which can be used for animal food, and loeing, which has a sweet, yellow fruit.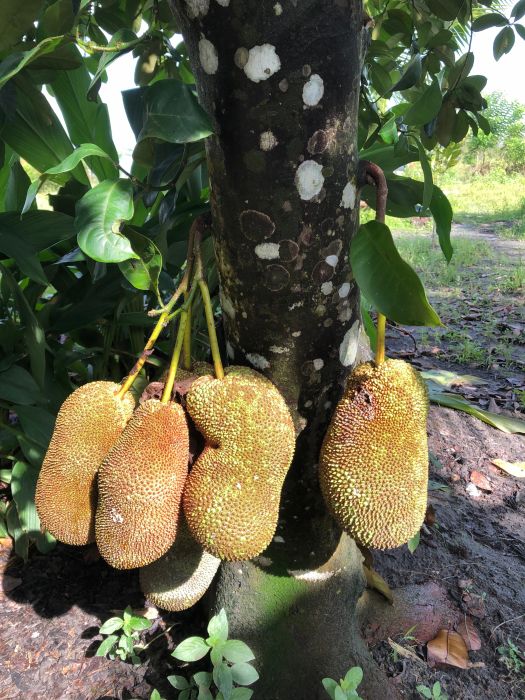 Since our previous visit to Tanjung Puting, things have clearly changed in the area. The palm-oil plantations are much more pervasive. It seems that every piece of open ground is planted with oil-palm saplings and trees. These plantation crops are harvested regularly, making them much less efficient at storing carbon.
That's why FNPF's mission, with our reforestation strategy and efforts to protect the forests from forest fires, is so important. The biodiversity of areas such as Tanjung Puting is irreplaceable, and increasing evidence shows that natural forest is much better at removing atmospheric carbon than degraded forest or plantation crops like oil-palm.
So it is reassuring to see the re-greening of the areas near Tanjung Puting where FNPF works. At another FNPF site, there are healthy young forests that we planted 15 years ago and are now home to a staggering variety of plants and animals, including orangutan.
It is also particularly heartwarming to meet the young volunteers from all over the world who have joined FNPF's innovative volunteer program, giving freely of their time to plant and care for the trees.