The Malay word orangutan translates as "person of the forest," and the orangutans that once thrived in the wooded areas of the rainforest in Sumatra and Borneo have reached record low population levels. The only great ape unique to Asia, orangutans are a tropical species near the edge of extinction—a real fear is that they will simply fade away, leaving only memories of these gentle giants. While poachers, loggers, miners and other intruders once posed the largest threat to these exotic creatures, orangutans now face a new foe. Their greatest threat today is from the plantations and corporations that rapidly deplete rainforests of their local flora to plant and harvest oil palms. The palm plantations drive the orangutans, as well as many other indigenous  species, away from their native habitat.    
One way to protect these animals is to pass the message along to those who will be responsible for the future of the orangutans—our children. Through writing and illustrating the children's book Orangutan: A Day in the Rainforest Canopy, Rita Goldner speaks out for a species that has no voice of its own, sharing their message with young children. Rita's gift for painting and sketching first sparked her love for orangutans. Spending her summer days at the Phoenix Zoo, Rita would sit on a folding chair in the Observation Room and watch the orangutans. After many painting and drawing sessions, Rita gained a personal attachment to these creatures. She became moved by their beauty and wanted to share her loving encounters with others.  
Orangutan: A Day in the Rainforest Canopy follows a young orangutan from morning to night. He swings through the canopy searching for food, visits the river below and encounters other Borneo wildlife—some of which create dangerous situations. The simple storyline and playful illustrations make it perfect for children as young as four years old. 
Rita's book encourages children to discover the marvels of our natural world through observation. It offers a chance to bond with orangutans—as Rita did while sketching at the zoo—and provides a wonderful way to teach children about the importance of the species. The book helps kids to explore the mysteries of a place they have never been. Rita takes the reader on a journey to meet not just orangutans, but many other precious creatures, from tropical tree frogs and proboscis monkeys to brightly colored hornbills and sun bears. Rita's captivating drawings highlight the unique beauty of the rainforest and its local inhabitants, and her whimsical illustrations capture the bright personalities of the animals.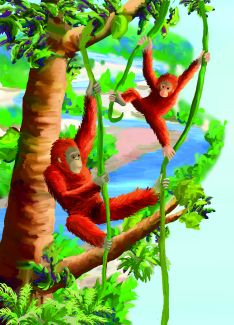 The story brings children into a foreign land, allowing them to join a wild orangutan on his exciting adventures in the rainforest canopy. Beyond taking a memorable trip with the young orangutan, readers learn about the animals themselves  and how these playful fruit eaters conduct their daily routines in their natural environment. Rita wanted to not only include appealing aspects of the animals for children to enjoy, but also to be scientifically accurate in the information she presented. She worked with experts in the field and conducted extensive independent research to highlight fascinating information about the great Asian apes.
Children learn how orangutans, among the most intelligent of primates, use a variety of sophisticated tools to build their elaborate sleeping nests. While the Sumatran species is intelligent enough to use tools just as people do, readers learn that the Bornean orangutan has not yet acquired this skill set. And challenges abound. Those in the story face being preyed upon by a constricting reticulated python as well as a mysterious clouded leopard. The story also helps children to understand orangutans' complex family dynamics. Infants have a strong bond with their mothers, staying with them for several years to develop the skills necessary for survival. 
Rita's motivation for creating Orangutan: A Day in the Rainforest Canopy was twofold:  First, she wanted to create a piece of children's literature for young readers to enjoy. Second, she wanted to motivate a new generation to save the rainforest. She specifically wants her young readers to appreciate the existence of the orangutans, continue to learn about them and grow up inspired to do something to protect the species.
Rita's story leaves readers with one final statistic—there are only about 50,000 orangutans left in the wild lands of Borneo and Sumatra. The animals' low birth rate, small population and diminished habitat provide a fatal combination. Current projections for the species estimate that they will become extinct in about 20 years if current conditions progress,. With the Bornean species listed as endangered and the Sumatran species listed as critically endangered, the time is now to make changes to reverse their fate. Rita also voices concern for  other species in the rainforest, including the pygmy elephant and the clouded leopard, both  beautifully portrayed in the story and both endangered. 
While the future of the orangutans may be uncertain, Orangutan: A Day in the Rainforest Canopy ends on a positive note. The story instils love for orangutans over fear for survival, encouraging young children to learn more.
The underlying message is simple: dignity for orangutans and all wild animals. The Bornean and Sumatran forests have been orangutan territory for centuries. These arboreal dwellers need their lands protected to survive. Rita is optimistic for the species, and firmly believes their dwindling path can be altered through education. By opening  young readers' eyes to a far-off world, Rita hopes her story will provide a strong message as well as motivation to protect orangutans. By fostering a personal connection with the natural world, Rita's story seeks to inspire youth to care for our planet and its unique species and to help ensure animals' survival for generations to come.  
You can order signed copies from Rita's website.
Or order copies from Amazon.
More information about orangutans and some of the organizations that are working on the rescue, rehabilitation, and reintroduction of orangutans and their habitat is available at: 
Images are copyright protected and may not be reproduced without permission. Photos are used with the permission of Rita Goldner.