One morning, in the Spring of 2011, I found myself enveloped by lianas, palm fronds, the buzz of innumerable birds and bugs, and the already potent soporific humidity of the tropics: I was in Belize. The study abroad ecology course I was participating in was taking advantage of the lodgings at the internationally recognized, eco-friendly Tropical Education Center, for bird watching, nature trails, and hearty meals burgeoning with fresh fruit and local coffee. On this particular morning, we were gearing up for a visit to the Belize Zoo, located about a mile away down a dusty road, but not before listening to a guest lecture by the founder of the zoo herself, Sharon Matola.
While I waited, I attempted to snap a few pictures of a collection of frenetic, jewel-toned hummingbirds in front of a hot pink bush and was congenially interrupted by a group of small dogs eager for a quick rub. I turned to greet them and spotted a tall, handsome woman in a flowing dress adorned with a colorful mixture of animal prints following behind the throng of canines. "They're for sale," she said dryly and then chuckled, heading for the conference hall. I followed quickly behind.
Sharon Matola's prevalent sense of humor is one of many tenacious traits that led her to such a unique profession in such a unique environment. She is the founder and owner of the only zoo in Belize, located more or less in the middle of nowhere, where she has been caretaker to jaguars, coatimundis, and toucans, written children's books, taught at local schools, and vehemently protested environmentally harmful developments. Since 1983, she has built animal enclosures and fed the animals by hand, explored terrain that rarely witnesses human life, and zoomed all over the country on her motorbike in incredible heat and rain to fundraise and promote her projects – feats that most men would find daunting – not to mention building the Belize Zoo into the national treasure it is today.
I leapt at the opportunity to interview such an independent, vivacious and inspirational name in conservation and to discover her thoughts on not only her own work, but also greater environmental issues concerning Belize – and the world. 
Altaire Cambata: The Belize Zoo has a unique origin in terms of how it was created. Can you speak a little about its history?
Sharon Matola: I originally came to Belize to work as a film assistant for a wildlife documentary filmmaker. I helped him complete a film focused on tropical rainforest ecology. After it was complete, the parent company, based in England, sent Mr. Richard Foster [the filmmaker] to Borneo to complete another film. I was told to "get rid of the animals" – the animals used in the film we had completed in Belize. They were tamed, they were my friends, and I had no intention of seeing them go anywhere.  Realizing that Belize did not have a zoo, I started one, initially, just to provide an option for the leftover, say 20 or so, documentary film stars.
Where are the animals that live at the Zoo sourced from today?
Three generations have passed since I began the zoo and made the commitment to see it become a vibrant wildlife education center. We do not get animals from the wild. Ever. They are either former pets, given up by their owners, or confiscated by government of Belize Forest Department – it is against the law to keep wild animals as pets – who then turn them over to the zoo, are given to us by other zoological facilities – for instance, our king vultures – or they are rehabilitation animals, animals injured and then brought to us for care. Some are born here.
Do you know if the Belize Zoo is unique in terms of how it acquires any of its animals?
The above is fairly standard. No zoo, to my knowledge, goes on expedition into the wild any longer to bring back a specimen for the collection. We do have the unique Problem Jaguar Rehabilitation Program. We acquire jaguars that have turned from hunting their normal wild prey – deer, peccary, paca – and instead prey upon livestock. As a result [of this behavior], the cat population was being destroyed. I presented a proposal to the government of Belize where the cats, safely trapped, would then come to the zoo where they would go through behavior modification training. We also received support from the U.S. Fish and Wildlife Service because the gene pool in captive jaguar populations in the United States was in such a weakened state. I proposed that a rehab jaguar, while not being able to be released back into the wild, could contribute to the genetic situation in American populations, keeping them healthy.  We sent two cats to the United States:  Pat the cat to Milwaukee, and Frankie to Philadelphia. Frankie became a father last May. The cats remaining here are used for education and research. The program, the only one of its kind in the world, is a big success. Cats saved, gene pool revitalized, people educated about the special profile of this endangered animal: all win-win. I have rehabilitated 13 jaguars.
The Belize zoo is the only one in the entire country.  What affect does your zoo have on local and foreign visitors?
Huge impact. We receive over 10 thousand school children annually. They most definitely gain a better understanding and appreciation of their natural resources, and Belizeans are extremely proud of their zoo. Every Belizean schoolchild knows and loves April the tapir. Our star "jaguar ambassador," Junior Buddy, is on this year's telephone book cover, and to my enthusiastic surprise, the Prime Minister gave me an honored award last September for my contribution to the nation's wildlife preservation. Tourists love the zoo, too. They get very up-close to the animals, something not usual in stateside zoological facilities. We have a nickname, "The Best Little Zoo in the World," given to us by the guidebooks, and it stuck – and it keeps getting better.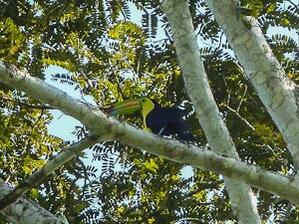 What are your most successful approaches to conservation education and children?
On-hands education, wowing them right here at the zoo. One of our graduates of the Problem Jaguar Rehab Program will come onto zoo grounds and give a high five to kids. At the same time, they see the beauty of the cat, and listen as I or a keeper explain about the need to protect them for the future. We have a fun Owl Pal program. Barn owls are known as the "bird of death and evil" in Belize, and nothing could be more false. These beautiful birds eat more rats than any other creature on the planet. "Happy" the owl goes to schools and educates kids about his species. School groups coming to the zoo can also meet the owls and get a quick lesson on owl conservation. I have written four children's books, and the fifth is about to be printed. These resources have proven to be effective tools, as well. My favorite education strategy is having birthday parties for key species like April the tapir, Panama the harpy eagle, Junior Buddy the jaguar. We always get a huge participation from schools, and the press always covers these events. Kids love it. It is a fun way to learn.
As of 2005, the Chalillo Dam has become a fixture on the Belizean landscape, and it was extremely controversial in terms of its effects on water quality, energy prices and biodiversity loss. Is there a scenario in which the environmental damage can ever be reversed?  
Maybe a storm will destroy it; maybe someday they will decommission it. That would be splendid. The river is tainted now. The Macaw population dreadfully affected, the fish not fit to eat. All were warned that these stated elements would occur – human greed is a difficult thing to battle and overcome. A very sad loss, that unique river valley. And of course, Belize still has the highest electricity rates of any country in Central America.
Recently, prospectors discovered oil beneath the Belize Barrier Reef, the second largest barrier reef in the world. Do you believe that Belize currently has the resources or incentives to protect it?
On the 28 and 29 of February, there were polling stations throughout the country, where one could vote "yes" or "no" to offshore drilling. There were over 28,000 "no" to 1,000 "yes" votes. A strong message went forward, and while the polling stations were not able to be everywhere, the people, including myself, voiced our opinions via the vote. Chalillo Dam has shown a nation what a predatory company can do. Offshore drilling would be disastrous, and Belizeans are wise enough to know that big businesses lie and do not care about the environments that make this country such a special place.
You have a special affinity for big cats and certain jaguars, such as Junior Buddy, in particular. What is your history of working with big cats?
When I was in college, I did a three-month stint working with two tigers and two lions in a small circus for an animal behavior project. When I graduated, I was fortunate to get a position as a lion tamer in a travelling Mexican circus for a year. Yes, I love big cats.
What challenges do jaguar populations currently face in Belize?
The challenges are very real: shrinking habitat, people hunting the same prey that the jaguar needs to sustain its populations, some hunters taking the opportunity to shoot a cat and acquire the canine teeth, which are then sold as jewelry. We aggressively promote the Central Wildlife Corridor, which is a large block of forest and supports a healthy population of jaguars. We promote Junior Buddy like crazy; his recent fifth birthday party received four minutes on nationwide television, and he is a very beloved cat. The idea is simple: build a strong respect in the people about their wildlife so they will want to see these animals thrive into the future. Jaguars and tapirs are top on the list, but protecting their habitat, and getting the local folks to understand and agree, protects habitat for so many more, as well.
Tell us a bit about participating in a series of small expeditions to climb to the highest point in Belize: Doyle's Delight. What is the area like in terms of biodiversity?
I organized and led three major expeditions to Doyle's Delight: major work! I am very proud of that part of my life. We added so much to the biological data banks in Belize, and on an important scientific level, that goes far beyond our borders. The biodiversity there is most unique. Minus that exploration work, it would still be a big unknown.  
To end, is there a lesson or bit of advice you would like to pass on to young female conservationists hoping to make large impacts?
Follow your dreams. Don't accept doors being shut in your face. Know that anything, absolutely anything, is possible if you focus, keep your commitment and shrug off the negative.