On June 21, 2011, Izilwane premiered its first youth art project in Taos, New Mexico. Intern Anne Da Silva and I developed and conducted various art ventures designed for young children every Tuesday morning for several weeks throughout the summer. With these weekly art sessions, we hoped to bring children together to discuss the natural environment – particularly animal biodiversity – and create art to represent their connections to the world around them. Before the first class, Anne and I created posters promoting the project as "environmental awareness through art making," and we placed the posters in public areas around the town of Taos. Thus began Izilwane's Taos Youth Biodiversity Art Project: with simple publicity. Soon, word of mouth had spread the news of our classes, and interviews on local radio stations helped attract more children and their families to the art sessions.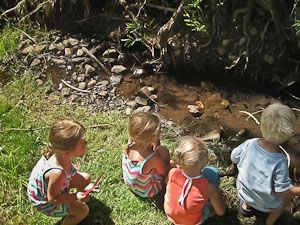 Every Tuesday, eager children gathered at Scott's Pottery Gallery in Arroyo Seco where two picnic tables under a shaded patio cover served as our workshop. A creek ran alongside the picnic tables, providing endless experiential learning for our young students. Trouser the fish resided all summer in the clear waters, passively swimming along the roots of trees along the shore. Throughout the art sessions, the children would leave their art set up on the picnic tables and take a break to explore the nature around them.

They would hike by the creek, cross over the water on a simple two-by-four that served as a bridge, play on the swing set next-door or follow me as I guided them in yoga poses, such as downward facing dog and tree pose. Every activity was centered on the natural environment, particularly the coexistence of animals and humans, and we encouraged the children to explore their own connections to the natural world around them. Since serious wildfires burned nearby through the months of June and July, a few of our art sessions focused on the fires and how they impact the forests and the animals. To close the wildfire art sessions, we all formed a circle and performed what we called a rain dance. We all held hands in a circle and danced around singing and praying for rain. Then, we all hit the ground simultaneously with our hands imitating rain's noise. Other art projects included making animal masks and ceramic pots; drawing and painting on natural elements such as stones, pine cones and sticks; and drawing and painting on recycled materials and trash, such as cardboard, tin cans, glass bottles, etc. With each project, we discussed with the students the significance of the materials we used as part of a larger conservation effort.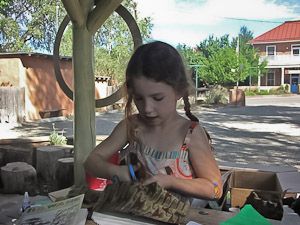 In the initial art sessions, Anne and I provided all of the art supplies and snacks. Materials included acrylic and water color paint, brushes, paper, natural elements, recycled pieces, pens, colored pencils and pastels. The snacks we brought for the children differed every art session and varied from watermelon to apples and bananas to ants-on-a-log – a piece of celery covered with peanut butter and raisins. However, as the sessions and summer progressed, increased publicity of the project and incredible community support provided additional resources for us and our students. We would like to extend special thanks to Sienna Sanderson and her own successful Neighborhood Art Project; and to the Harwood Museum, which donated a plethora of art supplies, including natural elements, scissors, construction paper, glue, fabric markers and crayons.

Our unique approach to art and conservation education attracted the attention of local news outlets KTAO RADIO and the Taos News. Izilwane Founder Dr. Tara Lumpkin, Anne and I, as well as Izilwane intern Hari Ganesan, were interviewed live on air at KTAO. The radio hosts asked about Izilwane, our mission, details about who we are and information about our art sessions. Many of our friends and family, as well as the Taos public, tuned in and listened to the interview. Subsequently, the radio and the newspaper brought new faces to our art sessions, eager to participate in this creative experience.


Throughout the summer, children of all ages from Taos and around the country joined us to create art. We had our regulars who joined us every week: two girls from Texas and a brother and sister from Tucson who all reside in Taos during the summer. Simon and Max, twins from Taos, also joined us regularly and were the older ones of the group. Although the project originally targeted children from ages five to twelve years, younger children accompanied by older siblings were welcomed, also, and added new perspectives to our work.
After hosting a total of seven sessions, the successful Taos Youth Biodiversity Art Project ended with an art show finale held in Taos featuring projects produced by the children. The city offers free live music in the summer and every Thursday evening, members of the Taos community flock to the historic district for the entertainment. We were able to take advantage of this public event and coordinated the exhibit with the social gathering. The objective of the exhibit was to show adults, as well as all of the Taos public, the children's vision of the natural environment through their art.

During the exhibit, art supplies were on hand for anyone who wished to create a project during musical performances; we wanted to encourage visitors to understand and participate in our project the way our wonderful students had. Creating art often effectively captures one's personal connection to music, life and the natural world as a viable, visible interpretation of experiences through artistic expression. Since art is creative, there are no limits or rules, and both children and adults can find a voice through this freedom. The art sessions we held served as opportunities to reflect, discuss and enjoy the natural environment and creatively express ideas and experiences. Art and creativity not only help us understand the needs of our fragile planet, but they also can help create solutions.