My amazing trip all began when the International Fund for Animal Welfare (IFAW) announced a global search for 34 international conservationists aged 18 to 25 to attend the first-ever Youth Forum for People and Wildlife (YFPW). The delegates would talk about wildlife issues, explore solutions, network with each other, build and share skills that would protect wildlife from illegal trade, and work together to support ecologically sustainable communities.
The gathering was held immediately prior to the world's biggest conservation gathering, the 17th Convention on International Trade in Endangered Species of Wild Fauna and Flora (CITES) in Johannesburg, South Africa. CITES, an international agreement between governments that regulates international trade in wild animals and plants, aims to make sure that trade does not threaten these species' survival. There are currently 183 countries that participate in these international conservation agreements.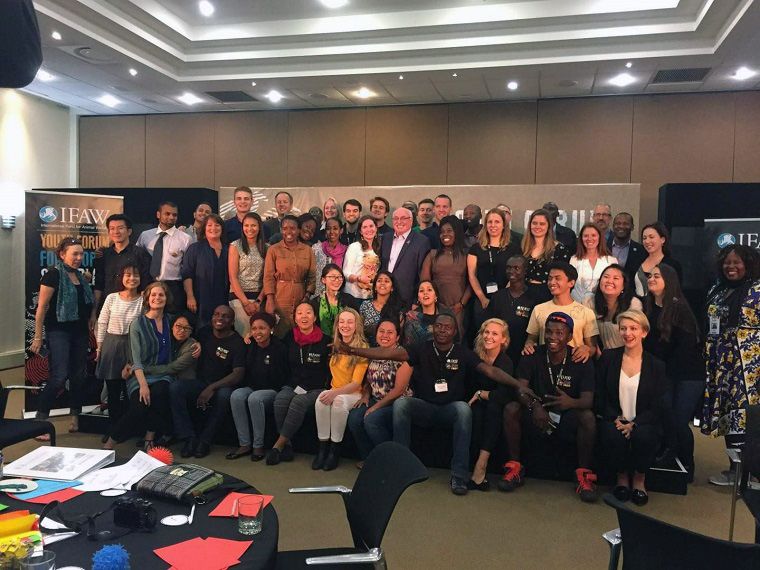 Youth forum delegates with IFAW, president and CEO Azzedine Downes.
YFPW fit with my passion for wildlife conservation issues, as well as my interest in networking with like-minded individuals. I applied for a position and was fortunate to be chosen out of nearly 1,000 applicants. The group was made up of youth from 25 nations that are key sources, transit hubs and centers of consumption of threatened wildlife in Africa, Asia, Europe and the Americas.
To prepare for the forum, I had online discussions with my new colleagues and IFAW experts via a digital event platform. We talked about critical topics, including wildlife trade, human-wildlife conflict, CITES, self-awareness, climate change and cultural dynamics. Each delegate also developed a scientific poster for the forum about his or her personal and professional wildlife conservation work. 
A few months before the forum, IFAW officials informed the team that we would be attending part of the CITES conference. They asked us to study up on it so that we would be well prepared. During the same period, I was looking for an internship for my Wildlife Management degree course at Maasai Mara University of Kenya. In a stroke of good luck, Kenya Wildlife Service (KWS) offered me a place at their headquarters – the CITES Management Authority Office in Nairobi.  
The internship was a wonderful opportunity to learn about CITES and how it works. I was able to brush up on agendas that Kenya was proposing at CITES, including uplisting elephants and pangolins to Appendix I, which provides the highest level of wildlife protection. The internship also afforded me the chance to participate in a significant conservation effort before I attended CITES. 
In 2016, Kenya set fire to 105 tonnes of ivory and 1.5 tonnes of rhino horns from over 7,000 animals that had lost their lives due to poaching. The goal of the event was to spread the message that ivory should be considered valueless because elephants and rhinos are worth more alive.
I participated in preparations for the event by joining a group of Kenyan university students trained to verify ivory and rhino horn stockpiles. As these items were moved from storage to the destruction containers, our main task was to facilitate and ensure the right specimens got where they needed to be.
The burning ceremony took place at Nairobi National Park and was attended by the presidents of Kenya, Gabon and Uganda, as well as CITES' General Secretary. The blaze attracted massive worldwide media attention and shocked ivory consumers all over the world. It sent a much-needed message about protecting African elephants, which are in serious peril. Research shows that Africa had 1.3 million elephants in the 1970s, but only about 500,000 today. The main cause of this shocking population decline is poaching.
Toward the end of my internship, KWS arranged for me to attend CITES as a party member in addition to my YFPW position. The trip was proving more beneficial than I ever expected!
In September 2016, my long-awaited adventure began. I flew to Johannesburg and settled in at the Bannister Hotel, where I met my fellow YFPW participants from around the world. It was incredibly inspiring to interact with them and hear about their great work.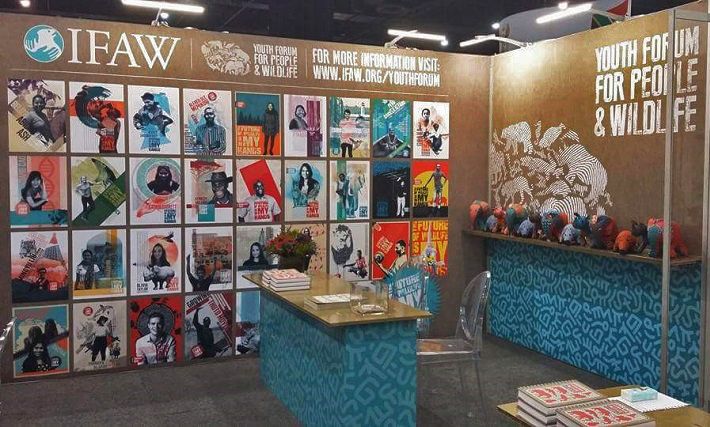 Youth Forum delegates profile/introduction room
During the first few days we learned about each other's backgrounds. We took a field trip to Pilanesberg National Park & Game Reserve to see wildlife in their native home - the species found there include lions, giraffes, impalas, crocodiles and elephants. We also visited Soweto Township to see the late Nelson Mandela's house, and gained amazing insights into Zulu culture and history.
After finishing the field trips, we went back to Johannesburg to start the workshops. The debates, discussions, expert panels and guest speakers tackled a long list of issues: the wildlife trade chain, critical thinking, anti-poaching techniques, public outreach and understanding CITES. We even had our own mock CITES session, where we considered a polar bear proposal. Each team gave their suggestions on how to deal with the ideas in the document, and then we voted. It was a valuable learning experience. 
From the presentations and discussions, I noted some new and serious issues affecting wildlife across the world. While saddening, it was also motivating because the people and countries in the room were offering appropriate solutions. 
On Saturday, September 24, 2017, South African president Jacob Zuma officially opened the CITES conference with warm words of welcome. The Sandton Convention Centre was packed with over 3,000 of the world's top ecologists, conservationists and policymakers. The event marked the fourth time a worldwide CITES meeting had been held on the African continent since 1975.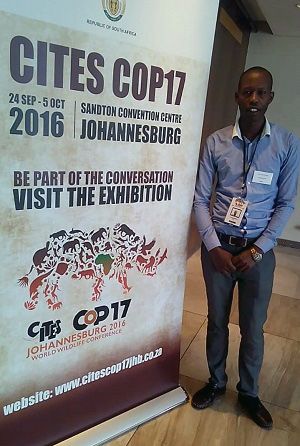 After the opening ceremony, attendees discussed proposals from different countries. Topics such as the proposed uplisting of rhinos, elephants, rose wood species, lions, sharks, the African grey parrot and pangolins were at the top of the agenda. Other broad topics relating to wildlife trade included corruption, cybercrime, climate change, demand reduction, captive breeding, youth involvement in CITES and local communities' participation in environmental conservation.
The conference gave me a greater understanding of the trade and the suffering of wildlife around the world. It also gave me insight into the complexity and varying viewpoints of stakeholders affected by these issues. In the few days I was at CITES, I heard many contradictory arguments from delegates from the same countries. One representative would say something like, "Rhino numbers are crashing due to the trade in their horns. The only solution is to stop the poaching and demand." Then another attendee from the same country would say, "We need the money from the trade in these species to empower and create income in our communities."
The result of an elephant proposal put forward by Kenya was possibly the most disheartening, especially for an elephant lover like myself. Many countries, including Kenya, Gabon and Botswana, strongly support listing elephants in Appendix I of CITES, which would offer full protection from trade and shut down the ivory business. 
South Africa and Namibia, however, are the top supporters of allowing trade to continue. They let it be known that if elephants are listed in Appendix I, they will register a "reservation." That means they reserve the right to take their elephants and ivory off the CITES limitation list and trade in them. This kind of a loophole is accepted in CITES: when a state doesn't agree with any rule or regulation, they can just declare a reservation. It's frustrating there isn't more that CITES can do to make these agreements binding. 
At the moment, elephants and lions in countries such as Zimbabwe, Namibia and South Africa remain under Appendix II protection. Elephants in Kenya are listed in Appendix I. There was a proposal to place all elephants in Appendix I. It looked like it would pass, but then the United States, South Africa, Canada, Russia, Japan, China, Korea, Norway, Saudi Arabia and 28 EU states changed their minds and voted against listing elephants under Appendix I. I can honestly say that watching those proposals fail was an awful, saddening experience. 
There were, however, some good decisions made regarding elephants. Several countries agreed to close their domestic ivory trade markets — something that's been under discussion since 2013. The proposal to open up ivory markets in Namibia and Zimbabwe was strongly rejected. I anticipate many CITES members will join the call for a total ban in ivory trade at the next convention in 2019 in Sri Lanka.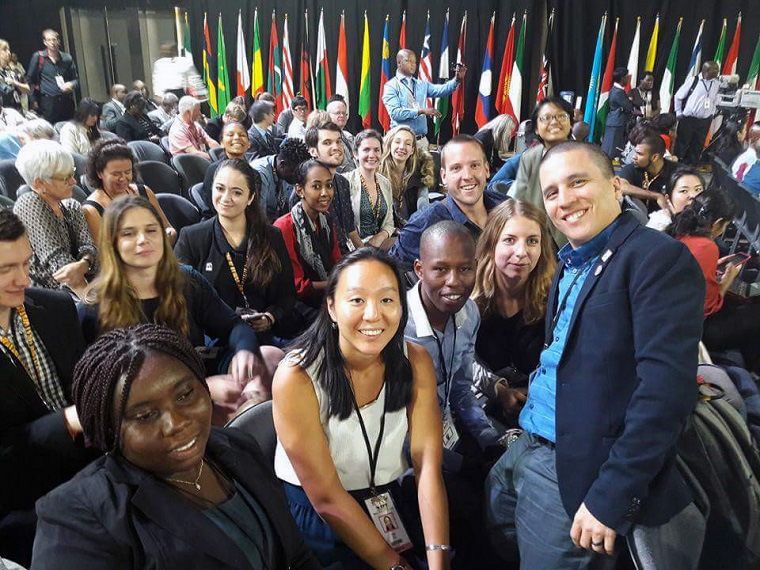 IFAW, youth forum delegates at CITES conference opening ceremony.
I witnessed several other great achievements. Among the species that achieved listing or uplisting on CITES Appendix I were all eight species of pangolins, the African grey parrot and the helmeted hornbill. Species downlisted to Appendix II due to successful conservation efforts were the Cape mountain zebra, the wood bison and some species of crocodile.
There is much work to be done on the world's biggest wildlife treaty to show that we truly care about the future of these species. My general feeling is that the attendees made many positive decisions that will be felt for generations to come. As for me, the contacts I made and experiences I had at YFPW and CITES will inform my schooling and career choices for the rest of my life. 
All photos are owned by Alfred Mepukori, and cannot be used or reproduced without permission.