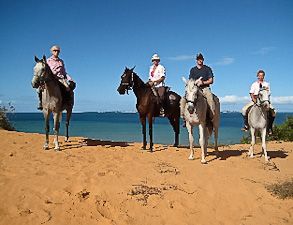 In January 2010, I was ready for a big adventure and Googled: "Africa. Horse. Volunteer." Up came the most gorgeous website with photos of the Indian Ocean and horses cantering along the beach. Mozambique Horse Safari. "I'm going there!"

The owners, Pat and Mandy Retzlaff, both born in Africa – second-generation white Africans – had been large-scale farmers in Zimbabwe for much of their lives. In 2000, Zimbabwe's President Robert Mugabe began the land invasions, the violent takeover of white-owned property by war vets, or wovits, as they are known colloquially. A sign of the corruption of the time, the farms were illegally given to members of Mugabe's government, who were generally disinterested and unskilled in agricultural practices, rather than to experienced black farm workers. For twenty years after independence in 1980, Zimbabwe (formerly Rhodesia) was the breadbasket of Africa, with a thriving economy. By 2008, however, inflation soared to more than 11 million percent. Unable to afford the costs of printing additional currency, the government dollarized – converted to the U.S. dollar – in 2009.

In 2002, the Retzlaff's were given four hours notice of eviction, on threat of death, from the farm they'd lived on for decades, along with their four-hundred-person labor force. Eventually evicted from six farms where they had been taken in, their investment and life savings disappeared into the skyrocketing inflation.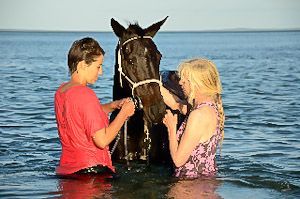 Pat refused to leave his horses behind, and other evicted farmers gave him their horses, as well; he also rescued abandoned or injured horses in the direst of circumstances. As the short story goes, he and Mandy took in one hundred horses across hundreds of miles during Zimbabwe's worst political turmoil and brought them across the eastern border into Mozambique. It took three years to complete their mission, as they went back and forth and finally settled near the frontier in Mozambique.

After their new agricultural project in their adopted country didn't take hold, Pat and Mandy decided to take the horses to the coast of Mozambique to the tourist area of Vilanculos, a world-renowned dive destination. Rather than have the horses become victims of their traumatic pasts, they founded the riding safari business as a way for the horses to support themselves, to earn their keep.

The property is modest, exotic even. After the calamitous cyclone Favio struck, Mandy dryly commented, "I never dreamed I'd be living in a shack on the beach!" The small thatch shelter I remember so well serves as the dining area for the volunteers and a gathering spot for evening storytelling. Mandy often keeps her guests in stitches with her hilarious tales about the incredibly challenging conditions in Africa.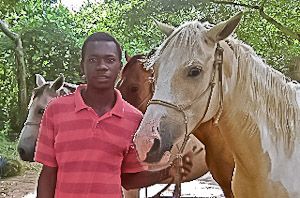 Today, clients can ride the horses for an afternoon on the beach or ride out on different routes and adventures every day. Those who are a little more adventurous can pay to volunteer for a month or two, as I did. Survival is literally hand to mouth, day by day – village workers cut grass each morning to feed the horses before they go out to graze; there are no barns full of stored hay like we have in North America. Three dollars per day pays someone to cut the grass and feed the many hungry equine mouths.

At the end of last year, Mozambique Horse Safari experienced another tragic turn of events: over the course of a few months, younger horses had been mysteriously dying, along with some of the mature riding horses. Devastating and incredibly frustrating, the mysterious ailment killed upwards of twenty-five beloved horses. At one point, a tissue sample, illegal to transport, had to be sent to South Africa for analysis. Mandy, ever resourceful, actually made it into a sandwich and sent it off in someone's handbag! Finally, around the New Year, the cause was tracked to a toxic flowering weed in their new grazing grounds.

Now, in summer 2011, I have just spent a week back with the Retzlaff's. Being with them and with these lovely horses again is truly heart-warming; the beach riding is as glorious as ever, and business is beginning to thrive as word of mouth from happy clients and feature travel stories in two major international newspapers entice riders with the very same promise of beauty that brought me to Mozambique those many months ago.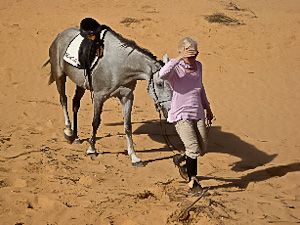 What Mandy and Pat have done and are doing is obviously extraordinary. Despite everything, they've kept a marvelous sense of humor and remained generous in every way. Pat has dedicated his life to these horses, and Mandy has dedicated hers to finding the silver lining in every dark cloud, inspiring countless other people along the way.

For more information on this wonderful program, please visit Mozambique Horse Safari.