Joan E. Berish is a wildlife biologist and gopher tortoise expert who has made significant contributions to wildlife conservation in the state of Florida over the course of her remarkable career. 
In her memoir, Fire and Fauna: Tales of a Life Untamed, Joan reflects on her eventful journey to become a wildlife researcher: from fighting wildfires in New Mexico to spending a night in jail with a threatened species. Although wildlife research has long been a male-dominated field, Joan's tenacity and desire to work with animals enabled her to overcome every obstacle and land her dream job as a wildlife biologist with the Florida Fish and Wildlife Conservation Commission. 
In a candid and humorous way, Joan vividly recalls the time she spent working with fellow scientists and local experts in the Florida backcountry, and the physical and emotional challenges she endured while carrying out pivotal wildlife research. She dedicates a large part of her memoir to her work with gopher tortoises and shares fond memories of studying the behavior of this keystone species. Importantly, Joan's research has contributed significantly to the conservation and protection of the gopher tortoise, as well as their upland pine forest habitats.
In this interview about her memoir and accomplishments, Joan provided fascinating insights into her work as a pioneering wildlife researcher.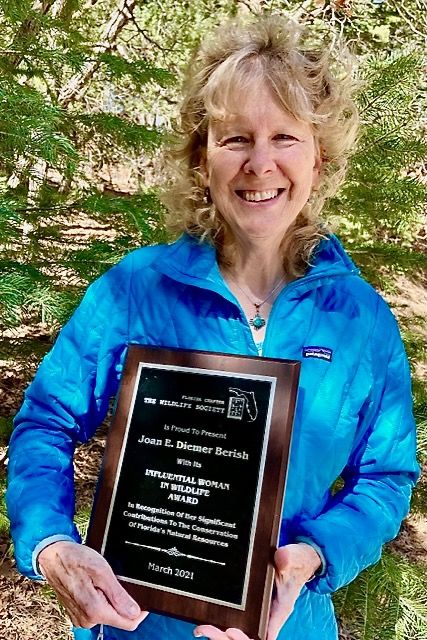 Joan Berish won the Influential Woman in Wildlife Award in March
2021, presented by the Florida chapter of The Wildlife Society 
Was growing up in Maryland instrumental in your ambition to become a wildlife conservationist? 
Joan: I feel quite fortunate to have grown up in the rolling Maryland countryside during the 1950s and 60s. At that time, the area was a patchwork quilt of fields and forests, and there was a meandering and alluring creek that ran near my homestead. This once-rural part of Maryland is now heavily developed, and huge houses dominate the pastureland where I rode my horse. I do think that being able to wander through the woods on foot or horseback, catch critters with my brothers and explore the banks of our creek (sometimes falling into the creek) only enhanced my innate love of nature and animals. Even for children not necessarily destined to become wildlife biologists, I believe that early and consistent immersion in the natural world is important to create adults who care about the conservation of wild lands and wildlife.
How would you summarize your experience working as a wildland firefighter and wildlife research biologist at a time when men dominated the field? Did the lack of women in the field act as a driving force to succeed in your career?
Joan: As I note in my book, I never set out to be a pioneer or to work in a male-dominated field just to prove a point. I wanted a career working with animals and once it became clear that wildlife biology would be my chosen field, I traveled down whatever paths, no matter how sinuous or rocky, that would take me toward that goal. Even before I had decided on a specific career, atypical jobs seemed to come my way: summer substitute mail carrier, nuclear medicine research technician, assistant to a volatile veterinarian and helitack firefighter. Was it timing, luck, kismet or some combination of factors? I of course will never know, but I am extremely grateful for those experiences. 
Probably because I had grown up with two older and mischievous brothers, I was not threatened by men and generally felt comfortable in their company. That said, there were times when I had to work harder as one of the rare women in wildland firefighting or wildlife research. But it was my own internal drive and work ethic — not competition with men or a need to prove myself — that made me strive to be successful as a field biologist and wildlife researcher.
Did your experiences as a firefighter impact your perspective or approach to wildlife conservation?
Joan: When I fought fires during the late 1970s, suppression was the overriding emphasis, at least in New Mexico. So, our raison d'etre was to make sure that all fires, even smaller, less intense ones that might have benefited the forest, were immediately suppressed. I do recall my crew boss saying that, in some cases, a specific fire could be useful in reducing the fuel load and therefore help prevent future fires. Although we did remove debris — we called it "stacking sticks" — near Forest Service roads, I don't remember hearing about many preventive burns at that time. 
When I got to the Southeast after fighting fires in the Southwest, I was surprised and heartened to learn that prescribed burns were a common occurrence. They are extremely important to the upland areas inhabited by my study animal, the gopher tortoise. By reducing the tree canopy and fostering a grassy, savanna-like understory, such burns enhance the habitat for this reptilian herbivore. And because the gopher tortoise is a keystone species, increasing their numbers enhances biodiversity. Gopher tortoises' burrows also provide refuge for the threatened eastern indigo snake, the species that I focused on for my master's research. Obviously, wildland fire can be a force of extreme destruction, but it can also be one of habitat renewal and species diversity. 
What were the most challenging and rewarding aspects of working as a firefighter?
Joan: Wildland firefighting is undoubtedly extremely arduous work: chopping small trees, felling larger trees, digging firelines to mineral soil and mopping up to prevent reburns. Even as a 26-year-old in relatively good physical condition, my first fire literally brought me to my knees. The training to get — and stay — in shape was also strenuous. And I had to drive 200 miles round trip each day to get to my helitack base, so this wasn't an easy undertaking. 
But there were also rewarding aspects. Flying in the chopper over stunning scenery such as the Grand Canyon was certainly amazing and memorable. Also, it was heartening to know that our efforts and those of fellow wildland firefighters helped reduce the utter destruction of valuable forested lands. In one case, the fire went off federal lands into private landholdings. I write of seeing an older man just home from work, still in his white shirt with the sleeves rolled up, join us on the fireline as we struggled to save his property and home. Thankfully, we prevailed, and that success was certainly rewarding. Finally, the camaraderie with my crew (all men other than one other woman) was a valuable asset, especially when the going got rough. 
How important was your master's research project on the eastern indigo snake in supporting your gut instinct that wildlife research was the right career path for you?
Joan: To say that my indigo snake distribution study was a labor of love is an understatement. I had always thought that snakes were fascinating, and the indigo snake is in a top snaky echelon, so to speak. It is nonvenomous, docile, reclusive and spectacular in both color and size, reaching a maximum length of 8.5 feet. Zoogeography and ethnozoology were interests of mine, so roaming southern Georgia in pursuit of this enigmatic species was a perfect fit. My interactions with local colorful characters provided insights into the species' distribution and fodder for my memoir. This initial wildlife study allowed me to work with animals, have adventures outdoors and satisfy my innate curiosity. I knew that I was on the right path toward a wildlife research career.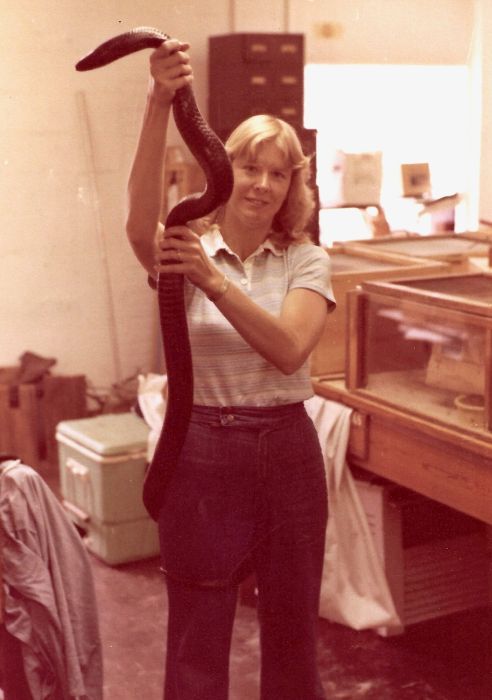 Joan with an indigo snake at Auburn University
What did you enjoy most about researching the gopher tortoise? Was your experience with Dufus the tortoise one of your fondest memories?
Joan: Although spring and summer weather conditions in Florida can be challenging — you might call my work "suffering for science" — I nevertheless generally loved being out in the field. Of course, some study sites were more appealing than others, but the hands-on data collection was rewarding and always seemed to generate new questions about this long-lived species. I found the behavioral aspects especially interesting, such as why did #29, aka Dufus for his comic antics, emigrate from my pine plantation study site to a pasture some 700+ meters away during an extreme heat wave? 
Speaking of Dufus, that young tortoise both fascinated and frustrated me, in addition to almost getting me killed when the plane we were using to radio-track him stalled in that brutal heat. I survived, obviously, and followed Dufus for two more years as he created new burrows in the verdant pasture. 
Although I did become quite fond of that wee wanderer, there were other tortoises that I enjoyed encountering many times over the years, especially males #33 and #133, who had very opposite behavior patterns — dare I say "tortoise-alities" — These seemingly robotic reptiles are individuals: #33 had a small home range and was resigned and sedate when handled, while #133 was a mover, a Romeo and a force of nature that kicked and squirmed when captured. This species' behavioral plasticity was a common theme in my research and one that kept me totally intrigued throughout my research.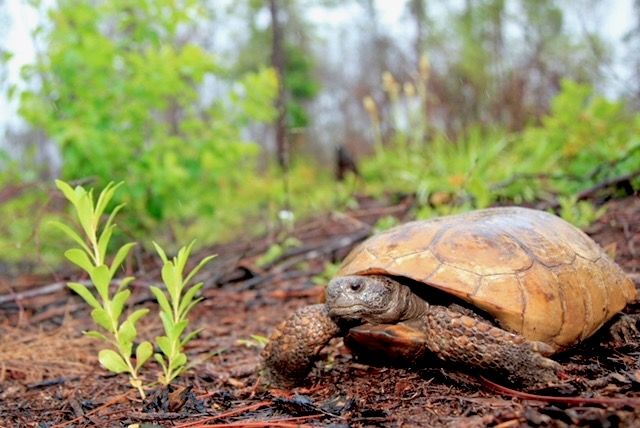 Blonde female gopher tortoise in the wild
At the time of your research in the 1980s, what were the main threats to the gopher tortoise? From your perspective, how have these threats changed over time?
Joan: When I started my gopher tortoise research in the early 1980s, the species was still harvested for food. Human predation, coupled with habitat destruction and degradation and a lack of prescribed burning, caused many populations in Florida to decline. Predation was heaviest in the Florida Panhandle and urbanization was increasing at a disturbing rate in the Peninsula. This is a burrowing species that lives in the same high, dry land where humans want to live.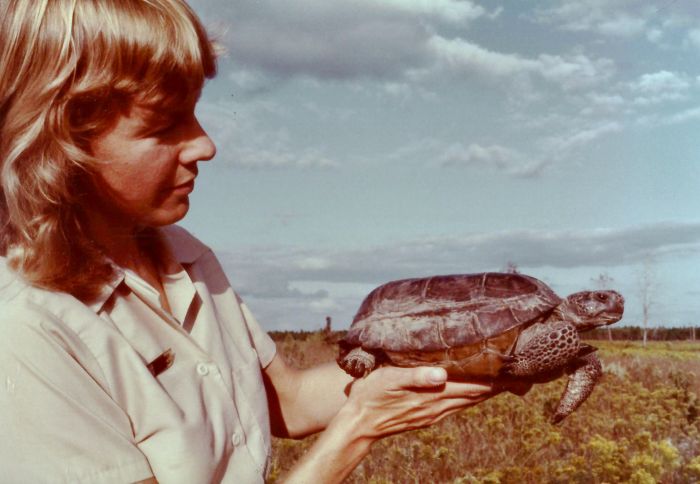 Joan and a gopher tortoise
The ensuing conflict led to one of my least favorite, and most controversial and biopolitical, aspects of my job: tortoise relocation. If my research fed my soul, relocation of tortoises from development sites seared my soul because finding suitable, minimally occupied, recipient sites was always a struggle. Although development was the monumental threat, tortoise habitat was also lost to agriculture, phosphate mining and some silvicultural practices. 
Thankfully, legal harvesting was terminated in 1988, although sporadic illegal take still occurs. Tortoise relocation has become more regulated and organized, but is still quite challenging. Impending solar farms, while beneficial in terms of green energy, may adversely impact this species by taking up usable habitat. Apparently, research on this potential threat will be undertaken.
What were the main implications of your research on gopher tortoise conservation at the time? Do you think your findings are applicable to current efforts to protect the gopher tortoise?
Joan: Perhaps the most noteworthy result of my early research was the realization by my agency that the gopher tortoise cannot sustain harvesting like deer, quail and turkey. This fossorial, or burrowing, species is slow-growing and has low reproductive potential. Both my population dynamics research projects, looking at changes in populations over time and field surveys of those who hunted tortoises, led the Game and Freshwater Fish Commission to prohibit harvesting statewide in 1988. Florida is this species' stronghold, and protecting the tortoise from widespread predation was certainly beneficial to its conservation. 
My work and that of other researchers also yielded a better understanding of tortoise movements and home range; the data could be compared to tortoise movements post-relocation to hone this controversial practice. I also studied the distribution and effects of upper respiratory tract disease on tortoise populations in Florida. These baseline studies are helping those charged with tortoise conservation today to monitor the health of tortoise populations. All these studies could then be compared with those being undertaken on another, related high-profile species, the desert tortoise that inhabits parts of California and the Southwest.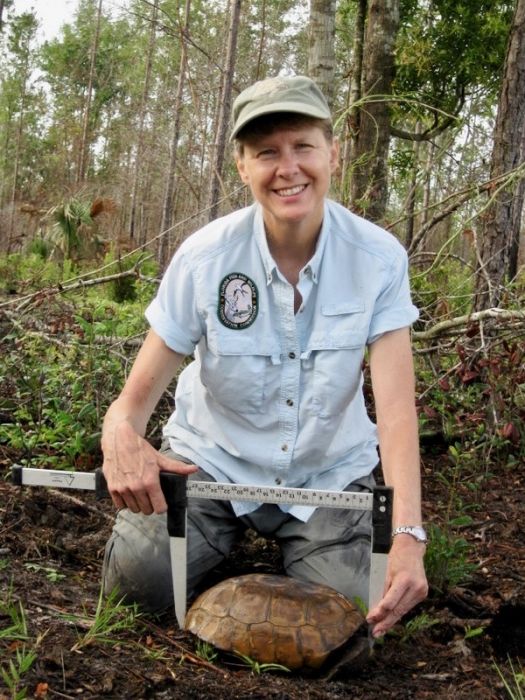 Joan measuring a captured gopher tortoise at the Plum Creek study site
near Cross Creek, Florida
Is there anything you wish you had done differently or studied in greater depth while at the Florida Fish and Wildlife Conservation Commission? 
Joan: I always wished that I could have recaptured #29, aka Dufus, when I went back to the pasture study site in 2009. I had followed young Dufus from 1982 to 87 but then needed to move on to address other research needs. 
In 2009, I did a follow-up on the pine plantation study area and decided to check the nearby pasture. I caught new tortoises there but there was no sign of Dufus. On a humorous note, my assistant at the time liked to tease me and would holler across the pasture that he'd found Dufus. Obviously, I didn't fall for that ruse too many times. Hopefully, as an adult male, he had simply moved on. He was, after all, a wanderer.
I also wish that I could have regained access to the sandhill study site where I had captured tortoises from 1982 to 87 and returned to in 1995. I had hoped to follow up one more time in 2010, but there had been some kind of conflict between my agency's law enforcement and the landowner. Even though I'd had an excellent working relationship with this man during the 1980s and 90s, I was denied access because I worked for the state wildlife agency.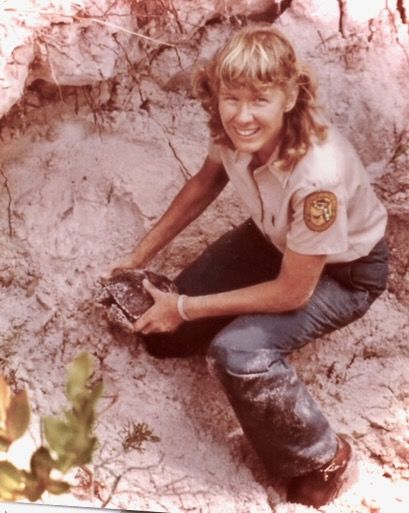 Joan in a gopher tortoise pit
What advice would you give someone hoping for a career in wildlife conservation?
Joan: The only way to be sure that you are on the right path is to gain some experience, even as a volunteer, in various aspects of wildlife conservation. If you have a curious mind and enjoy unlocking mysteries, research might be the best avenue. A preference for wanting to enhance habitat could lead someone toward wildlife management, such as burning, thinning, plowing, planting. Other valuable roles might be in law enforcement, education, administration or coordination. These avenues involve more interaction with people. Research, habitat management and law enforcement will likely require long hours in the field, often under arduous conditions. I would always tell a prospective wildlife biologist to follow their interests and their heart. Finally, determination and tenacity are essential.
Based on your many years of experience in the field, what recommendations would you give to conservationists seeking to effectively protect biodiversity and threatened species?
Joan: After years of field research and interacting with locals, I would emphasize that wildlife conservation is greatly aided both by using the best available science and by cooperating with the resident human population. Educating and providing incentives to local communities are definitely important. Most conservationists throughout the world now know this. For example, Dr. Laurie Marker, founder of the Cheetah Conservation Fund, raises livestock-guarding dogs in Namibia that protect herds from predators, thereby helping to conserve cheetahs that stock farmers would otherwise kill. As this example indicates, being proactive and creative can yield significant benefits. 
In my book, I discuss the value of conservation canines for wildlife research and management. Sniffer dogs have recently been used to find indigo snakes. Conserving biodiversity is further enhanced by protecting keystone species. That has certainly been true in the case of the gopher tortoise. This burrowing reptile can provide refuge to over 360 other species. It is an excavator, a landscaper and a landlord. I've always maintained that the gopher tortoise is a quiet, charming, innocuous model of longevity and persistence, and all it needs from us is availability of food, space and a little tolerance. That same conservation ethic, which I have deemed simply as "save space for wildlife," applies to all native wild animals, not only keystone and threatened species.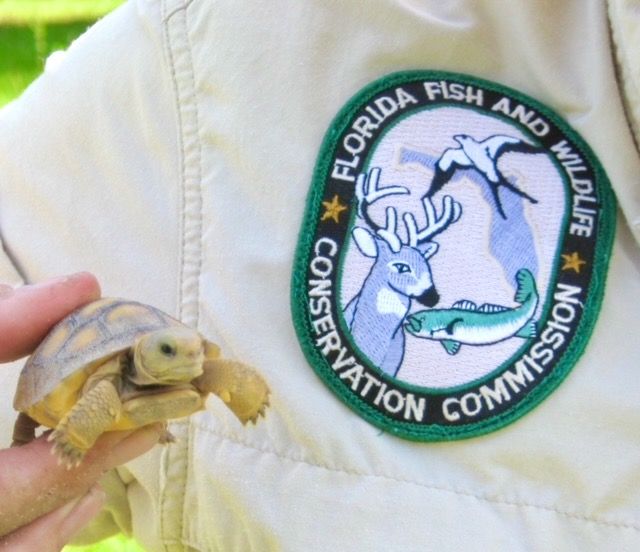 Hatchling gopher tortoise at Wolfe's Pasture study site in Cross Creek, Florida
To purchase a copy of Joan E. Berish's fascinating memoir, please follow this link.  
All photos courtesy of Joan E. Berish. Used by permission.