Jack Burtt left his accounting career in 2004 to begin an encore career as an independent traveler and volunteer researcher for the environmental organization Earthwatch.
Through his research work with Earthwatch as well as his personal travels, Jack has participated in projects ranging from uncovering mammoth bones in the Dakotas, to biking trips through Tuscany, to visiting Machu Picchu, to the study of elephants and lions in Africa.
On the side, he has been documenting his career through the medium of photography. His work with Earthwatch expeditions demands patience and keen observation, qualities he also uses to obtain close-up access to the animals he photographs. Africa, home to diverse wildlife, is Jack's favorite place to travel; his photographs from this continent are showcased in the Izilwane Photo Gallery.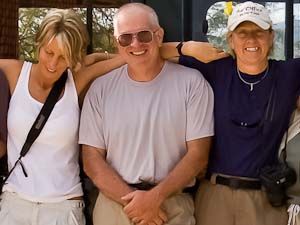 This past August 2010 Jack returned to Kenya to work with Dr. Barbara McKnight to study elephant populations in Tsavo East and West National Parks. Dr. McKnight has been conducting research on elephants in the park since 1989, and she and Jack have worked together many times over the years. The Tsavo conservation area is home to 10,000 elephants (Loxodonta africana), Kenya's largest elephant population.
Dr. Barbara McKnight's studies provide essential information to the Kenya Wildlife Service about the elephants' seasonal movements to help the elephants safely access key areas without coming into conflict with local communities. Elephants tend to raid crops and require access to land that could otherwise be used for farming, creating conflicts with local farmers. Another threat to the Tsavo elephants is depletion of grazing land by illicit cattle grazing. Poachers sometimes hunt for elephant ivory despite an ivory ban, and even the intrusion of tourists into the elephants' habitat can create stress. Barbara and her volunteer teams track elephants unobtrusively and identify them by their unique physical features, such as ear and tusk shape. She thinks that researchers should learn to know and follow elephants without resorting to radio collaring.
If you're interested in following Jack's example and starting an encore career as a research scientist or photographer, or if you're merely interested in an adventure, we recommend that you consider volunteering with Earthwatch. In the meantime, travel with Jack Burtt to Africa by viewing his photos.