Cyril Christo and Marie Wilkinson have been working together as a husband and wife team since 1997, when they began investigating and documenting the relationship between the indigenous human and natural worlds on five continents. Their conversation about global warming, globalization and the future of life on Earth started in 1996 during their first trip together abroad to Angel Falls in Venezuela. Their first book of photography in black and white – Lost Africa: The Eyes of Origin (Assouline 2004) – explores the ecological and man-made challenges facing tribes from Ethiopia to Namibia. Lost Africa placed in the Fine Art Book category at the International Photography Awards in 2008.
Inspired by their son Lysander, who has been with them on three trips to the Arctic, two to East Africa and one to India, Cyril and Marie created a testament to the African elephant, Walking Thunder: In the Footsteps of the African Elephant (Merrell London 2009), which placed in the Nature Book category at the International Photography Awards in 2010. Cyril and Marie are currently working on a dedication to three endangered bioregions: the Arctic, the African savannah and the forests of India, called In Predatory Light. They live in Santa Fe, New Mexico and spend part of the year in Amagansett, New York.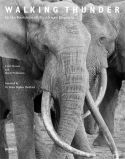 These images and more can be found in Walking Thunder, by Cyril Christo and Marie Wilkinson.

There are two videos that our readers may find interesting:
The Last Stand of the African Elephant narrated by Ali McGraw
The Last Stand of the African Lion, part of their next book In Predatory Light.
Cyril and Marie are wonderful supporters of Voices for Biodiversity and have decided to participate in an exceptional opportunity to help out our young organization. They are offering their exquisite silver gelatin prints for sale with 50 percent of the revenues donated to Perception International, the nonprofit that is the fiscal sponsor for VoicesForBiodiversity.org. The prices for the prints are as follows:

11 x 16 inches                   $900.00
16 x 20 inches                   $2500.00
20 x 24 inches                   $3000.00

Please visit their website  www.christoandwilkinsonphotography.com  to see more of their wonderful work and the wide scope of their efforts. If you are interested in purchasing one of these exquisite prints, please contact Robert Katz at rkatz49@gmail.com or Cyril/Marie at calmwaters16@hotmail.com.